'Disorderly Display': Cops Summoned After Two Pranksters in Trump Masks Box Each Other in Public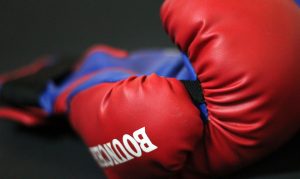 It's one thing if you pal around with your buddy with a good old fashioned round of slap boxing.
It's another thing altogether when your bout takes place inside of a Lowe's Home Improvement store and you're both wearing Donald Trump masks, scaring the bejeezus out of patrons around you.
That's what happened with two pranksters in Henrico, Virginia on New Year's Eve, who startled shoppers when the duo began "beating the devil out of each other" — as one witness put it — while knocking things over.
Police were called following the 2:30 p.m. fight, largely prompted by concerns that the masked men who up to something far more mischievous than a juvenile boxing match in Trump masks. The Richmond-Times Dispatch clarifies the concern further, noting, "In Virginia, a person over the age of 16 can be charged with a felony for wearing a mask in certain circumstances, including in public places, or on private property when the owner of the property hasn't given permission."
The witness who spoke to the Dispatch said, "All of a sudden, they started holding their hands up, jumping up and down, and they had boxing gloves on. And they started beating the devil out of each other and hollering 'Donald Trump! Donald Trump!'" continuing, "And then one of them fell and knocked some stuff down in the aisles, and the other one jumped on him, started hitting him in the face. I mean, these people, they were hitting. If they was acting, they was doing a good job on it."
The sole user comment on the original story in the Richmond-Times Dispatch, for the record, reads simply, "IDIOTS!"
So let that be a lesson to you all: if you're so inlined to beat up your buddy while wearing a Donald Trump mask, do it in a state that doesn't have laws on the books where you could face a felony (as far as I know, New Jersey is fine).
[image via Pixabay]
Have a tip we should know? tips@mediaite.com