Frank Rich: Murdoch's 'Media Colossus' Uses Intimidation To Maximize Power, Punish Enemies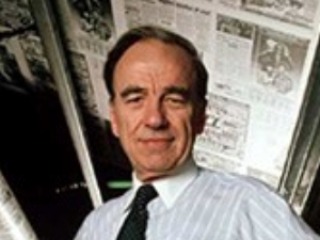 New York magazine's Frank Rich has offered an in-depth look at how Rupert Murdoch's News Corp. — currently deeply embroiled in a hacking scandal involving the company's now-defunct UK newspaper News of the World — also had a hand in several less-than-aboveboard practices on this side of the pond.
In 1976, at the dawn of his career, Rich found himself working for the Post when the paper was sold to an Australian business mogul who was, at the time, little-known in the States. The crux of Rich's piece lies not in bolstering the "us versus them" narrative espoused by many in the "mainstream media," but on zeroing in on how the Murdoch empire systematically abuses power in order to further an agenda, even if this abuse should happen to break the law:
This defense is a smoke screen. The real transgressions of the Murdoch empire are not its outré partisanship, its tabloid sleaze, its Washington lobbying, or even what liberals most love to hate, the bogus "fair and balanced" propaganda masquerading as journalism at Fox News. In fact, these misdemeanors are red herrings—distractions from the real News Corp. corruption that now threatens to bring down its management and radically reconfigure and reduce its international corporate footprint. The bigger story is this: An otherwise archetypal media colossus, with apolitical TV shows (American Idol), movies (Avatar), and cable channels (FX) like any other, is controlled by a family (and its tight coterie of made men and women, exemplified by the recently departed Rebekah Brooks) that countenances the intimidation and silencing of politicians, regulators, competitors, journalists, and even ordinary citizens to maximize its profits and power and to punish perceived corporate, political, and personal enemies. And, as we now know conclusively, some of this behavior has broken the law.
Frank highlights two specific instances of his personal brushes with those working under Murdoch, ranging from merely annoying to threatening:
The Post would not be my last brush with Murdoch's minions. An emissary tried to rehire me for his other new purchase in New York—this magazine, which he wrested unscrupulously from its founder, Clay Felker, in 1977 and owned until 1991. (I declined.) Years later, when I became a Times columnist who frequently criticized various Murdoch organs, I was harassed by a "blind" fictional "Page Six" item that had me leaving my wife for a Broadway director. That was a mere warm-up for a full-frontal assault from Bill O'Reilly. After I came to the less-than-novel judgment that Mel Gibson and his 2004 movie The Passion of the Christ were anti-Semitic, O'Reilly, whose one novel had been optioned by Gibson for a film, attacked me on six different installments of his prime-time Fox News show, The O'Reilly Factor, sometimes displaying my photograph. I would have laughed off his blowhard provocations—"Hollywood and a lot of the secular press are controlled by the Jewish people" was a ­typical hypothesis—had they not incited the most explicitly violent and virulently anti-Semitic threats of my career. It was only one of two times in seventeen years as a Times columnist that I sought security advice. (The other was when I wrote critically about Scientology some years earlier.)
Throughout his article, Rich provides a veritable trove of examples demonstrating retaliation on the part of those employed by Murdoch's various outlets and ventures, from the petty and juvenile to the heinous and, in some cases, potentially dangerous — and quite possibly illegal. As for News Corp's hand in politics, Rich describes a relationship between the company and the Republican party that's akin to a "business partnership," Rich feels as incomparable to other political figures appearing on Fox news' competitor, MSNBC.
Rich's "exposé," so to speak is worth being bookmarked today to read in full, but here's his basic takeaway: That further and widespread investigative reporting is needed to make the public — and law enforcement — aware of the unethical journalistic practices and illegal activities allegedly promoted and carried out by Murdoch's companies, both overseas and in the U.S.:
If Murdoch is to be undone in America, as in England, it won't be politicians who take the lead. It will take aggressive journalism, law enforcement, and civil actions to force jettisoned News Corp. executives to sing.
h/t NY Mag
Have a tip we should know? tips@mediaite.com