Game of Thrones Director: Obama Directly Asked Me If You-Know-Who Is Really Dead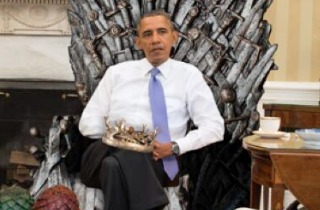 If you're not caught up on Game of Thrones, you should probably look no further.
But with those who watched all the way through season five (even through episodes that shocked a lot of people and led Mediaite's sister site The Mary Sue to stop promoting the show altogether), you know that we were all left on the big cliffhanger that Jon Snow, Lord Commander of the Night's Watch, met his end in a rather Shakespearian manner.
Or did he? Lots of fan theories have bubbled up as to whether Jon Snow is really, truly dead, and people want answers.
Well, it turns out one of those people is none other than President Obama.
At San Diego Comic Con today, TV director David Nutter––who directed the final two episodes of season five––revealed to Entertainment Weekly that when he was face-to-face with Obama three weeks ago, the leader of the free world "turned to me, put his hand on my shoulder, and said, 'You didn't kill Jon Snow did you?'"
Here's how Nutter recalls the rest of that conversation:
"I said, 'Jon Snow is deader than dead,'" the director recalls. "I thought I was going to be sent to Guantanamo or something, but fortunately I'm here — but he's dead."

Nutter added that Obama also complained, "You keep killing off my favorite characters."
Solution: threaten sanctions against HBO.
Also, in case you're wondering what that last line from Obama means, Nutter also directed The Rains of Castamere.
[image via White House]
— —
Follow Josh Feldman on Twitter: @feldmaniac
Have a tip we should know? tips@mediaite.com
Josh Feldman - Senior Editor