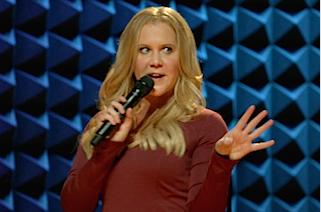 As if the Washington Post op-ed that suggested comedian Amy Schumer "inspired" Charleston shooter Dylann Storm Roof was not offensive enough, we have now learned that one of the article's two authors have never even seen her perform comedy before writing the piece.
The Interrobang's Debra Kessler set out to find out how the Washington Post came to publish an article that was widely derided as both hyperbolic and reductive so she reached out to Outlook Deputy Editor Mike Madden who clarified, "This is not the opinion of The Washington Post, this is the opinion of a couple of contributors to The Washington Post."
He suggested she speak directly to Dr. Stacey Patton, who co-wrote the op-ed with David J. Leonard. This exchange from their conversation sums up a fairly major problem with the entire premise of the piece:
The Interrobang: Have you ever watched Amy's television show… in preparation for the article?

Stacey Patton: Nope. Not at all.

The Interrobang: Her stand up set[s]? have you ever watched any of them?

Stacey Patton: Nope. None of them.
On top of that, Patton said the article was not her idea and when it was initially pitched to her by the Post, she thought, "Meh. This woman is joking."
"But then I thought about Donald Trump's remarks and then the fact that a few days layer Dylann Roof stands up in a church and before shooting nine people says, 'taking over my country you're raping our women' despite the fact that most of his victims were black women," she explained. "And then it was Schumer's comments about Mexican men and rapists. And I thought, see, that's when I had to say something."
The Schumer joke in question goes like this: "I used to date Hispanic guys, but now I prefer consensual."
After the uproar that resulted from a Guardian article about her "blind spot on race" — where Patton appears to have gotten most of her information about Schumer — and the subsequent takedown in The Washington Post, the comedian responded with this apology:
"I wrote this joke 2 years ago. I used to do a lot of dumb jokes like this. I used to play a dumb white girl character on stage. I still do sometimes. Once I realized I had more eyes and ears on me and had an influence I stopped telling jokes like that onstage, I am evolving as any artist. I am taking responsibility and I hope I haven't hurt anyone. And I apologize if I did."
Not satisfied by her portrayal in The Interrobang piece, Patton used the comments section this afternoon to fire back at the author for "whitesplaining" the issue to her.
"So what if I haven't seen Amy's standup?" Patton wrote, arguing that the op-ed was not meant to be a "review" of Schumer's stand-up, but rather a commentary on her "racist jokes." She also denied that she "compared" Schumer to people like the Charleston shooter and Donald Trump, but instead just explained that they are part of the same "white supremacist ecosystem." Patton went on to warn against the "danger" of Schumer's jokes about rape and race.
In her interview with Kessler, Patton explicitly stressed the importance of "context" in comedy, arguing that Schumer's joke about being raped by Hispanic men is "racist" because of the history of white women falsely accusing men of color of rape.
But if she was going to make such an impassioned argument against a specific comedian, shouldn't she have taken the time to experience any of her material in its intended context?
Here, Dr. Patton, for starters you can watch this. It will take you about five minutes:
[Photo via screengrab]
— —
>> Follow Matt Wilstein (@TheMattWilstein) on Twitter
Have a tip we should know? tips@mediaite.com