Get Ready To Hear The Name 'Amanda Simpson,' Obama's New Transgender Appointee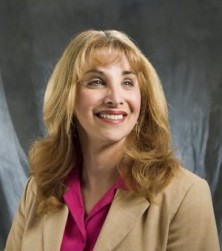 All but lost in the end of year media coverage was Pres. Obama's appointment of Amanda Simpson as Technical Advisor to the Commerce Department, which was first announced on December 31.
Simpson in transgendered – and a former test pilot at Raytheon Missile Systems. Get ready to hear more as the media kicks back in gear in 2010.
ABC News White House Correspondent Jake Tapper blogs about the story, introducing the news to a far larger community than had likely seen it before. In the release from the National Center for Trangender Equality, Simpson says, "I'm truly honored to have received this appointment and am eager and excited about this opportunity that is before me. And at the same time, as one of the first transgender presidential appointees to the federal government, I hope that I will soon be one of hundreds, and that this appointment opens future opportunities for many others."
Some more background from Tapper:
At Raytheon, Simpson — a former test pilot who had worked for the company for more than a generation — transitioned from male to female and was instrumental in convincing the military contractor to add gender identity and expression to its equal employment opportunity policy.

She later ran unsuccessfully for Congress and was a delegate for then-Sen. Hillary Clinton, D-NY, to the Democratic National Convention in 2008.
Simpson has worked for Raytheon for more than 20 years, and transitioned from male to female in 1999. Here's a lengthy backstory on her transition and her experience with the company.
So far the story has not broken wide – "Amanda Simpson" has no results on any cable news channel or broadcast news network (according to TV Eyes). But that likely will change this week.
—–
» Follow Steve Krakauer on Twitter
Have a tip we should know? tips@mediaite.com