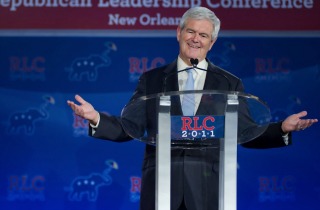 What better way to give President Barack Obama advice on how to handle Islamic terrorism than by way of directly channeling a fake Ronald Reagan speech? CNN host and former House Speaker Newt Gingrich, who last week said Obama would be okay to golf if he were more like Reagan, posted a column to his website Wednesday doing just that.
"Instead of criticizing President Barack Obama's lack of an effective national security policy as the terrorist threat of the Islamic State grows in Syria and Iraq, it might be helpful to imagine the speech President Ronald Reagan would have given in response to the videotaped beheading of James Foley," Gingrich wrote.
Foley is the American journalist recently executed by the Syria and Iraq-based terrorist group ISIS.
What followed was a 1,080-word speech resembling something Reagan would have said if he were in Obama's shoes, according to Gingrich, who was a U.S. represenative throughout Reagan's presidency.
A portion of the made up speech:
My fellow Americans:

We have all been saddened and outraged by the vicious videotape of Islamic State terrorists beheading an American journalist. Our hearts go out to James Foley's family.

However, anger and sympathy are not solutions. …

They must be defeated.

Yet defeating terrorists and blackmailers is nothing new in American history. …

Because I take very seriously the security of the United States and believe that my highest obligation as president is to protect America, I responded to this direct challenge with a series of quiet steps. …

In confronting an evil that seeks to kill us and destroy our civilization, our goal must be complete and decisive victory.

The Foley family needs your prayers in this difficult time.
Curiously, the speech concludes with, "Thank you and good night," rather than the modern "God bless America," as popularized by Reagan.
[Image via Shutterstock]
— —
>> Follow Eddie Scarry (@eScarry) on Twitter
Have a tip we should know? tips@mediaite.com