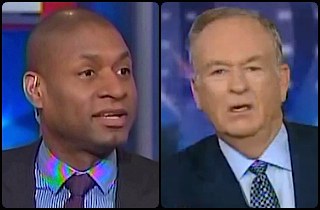 Charles Blow used his New York Times column Thursday to take aim at Fox News' Bill O'Reilly and his claims that "white privilege" doesn't exist. Turning a favorite phrase of O'Reilly's back around at him, Blow writes, "Mr. O'Reilly, it is statements like this one that make you the race hustler."
Blow begins by quoting O'Reilly:
"Last night on 'The Factor,' Megyn Kelly and I debated the concept of white privilege whereby some believe that if you are Caucasian you have inherent advantages in America. 'Talking Points' does not, does not believe in white privilege. However, there is no question that African-Americans have a much harder time succeeding in our society than whites do."
"It is difficult to believe that those three sentences came in that order from the same mouth," Blow writes. Once you admit that it's "harder for blacks to succeed," he argues, then the converse for whites must be "a form of privilege." He adds, "When one has the luxury of not being forced to compensate for societal oppression based on basic identity, one is in fact privileged in that society."
RELATED: A Lesson for Bill O'Reilly on 'Asian Privilege'
After quoting O'Reilly's most recent use of the term "race hustlers" to describe those who "blame white privilege" for any problems that African-Americans face, Blow concludes:
No, Mr. O'Reilly, it is statements like this one that make you the race hustler. The underlying logic is that blacks are possessed of some form of racial pathology or self-destructive racial impulses, that personal responsibility and systemic inequity are separate issues and not intersecting ones.

This is the false dichotomy that chokes to death any real accountability and honesty. Systemic anti-black bias doesn't dictate personal behavior, but it can certainly influence and inform it. And personal behavior can reinforce people's belief that their biases are justified. So goes the cycle.

But at the root of it, we can't expect equality of outcome while acknowledging inequality of environments.

Only a man bathing in privilege would be blind to that.
Read the full column at nytimes.com.
Watch the original O'Reilly segment below, via Fox News:
[Photo via screengrab]
— —
>> Follow Matt Wilstein (@TheMattWilstein) on Twitter
Have a tip we should know? tips@mediaite.com