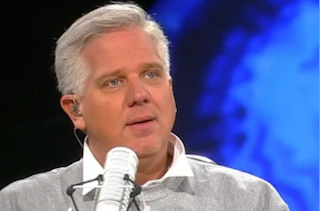 Glenn Beck followed in Rush Limbaugh's footsteps Thursday, defending Bill Cosby against what he sees as unfair attacks by the media in response to multiple rape allegations against the comedian.
This time, Beck was responding to the previously-unreleased video of an interview Cosby did with the Associated Press earlier this month. At the end of a discussion about Cosby's art collection, the reporter asked about the recent accusations against him. "I think you were told — I don't want to compromise your integrity, but we don't — I don't talk about it," Cosby said, with his wife seated next to him.
After the interview, when Cosby apparently thought the camera had been turned off, he said of that portion, "I would appreciate it if it was scuttled." Perhaps realizing no one on his team had told the reporter those questions were off limits, he said he had thought "it wouldn't be necessary to go over that question with you" in advance because the AP is a respected news organization.
"You want to talk about rape? That's media rape, right there," Beck said on his radio show Thursday after playing audio from the AP video. "You said you would not do that. Since when does your 'no' mean 'yes'? Do you know the definition of 'no,' sir? You've just raped Bill Cosby. You said you wouldn't do it. You just did it and then you blamed it on him. My gosh, maybe we should have a lesson on rape."
But as the Associated Press stated in the video they ultimately decided to release, "the interview was on record" and "the AP made no agreement to avoid questions about the allegations or to withhold publishing any of his comments at any time."
Unless Beck has some reason to believe the AP is lying about the nature of the interview, the company had every right to not only ask Cosby about the allegations but also to publish his defiant response to those questions.
Watch a short clip below:
And the full segment below, via TheBlaze:
[Photo via screengrab]
— —
>> Follow Matt Wilstein (@TheMattWilstein) on Twitter
Have a tip we should know? tips@mediaite.com