Rand Paul: No 'Bigger Defender of Minority Rights in the Congress than Myself'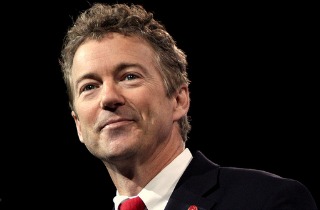 Senator Rand Paul continued his streak of going to places most Republicans don't by doing an interview with Salon today. Part of the interview centers around race and minority rights issues. Paul says rather candidly Republicans need to do a better job of reaching out to black and Hispanic voters, and hopes to be a part of that.
However, there have been a few snags in Paul's political career on the subject, like when he expressed reservations about parts of the Civil Rights Act (though he's since insisted he didn't oppose any of it). And there was also the neo-Confederate ties of a former Paul staffer.
But Paul just dismissed these questions and made a rather bold statement:
Well, I think that I simply point to my record. I don't think there has been anybody who has been a bigger defender of minority rights in the Congress than myself, and that's not saying others aren't trying as well. But I think you can see a history and a litany of bills that I've put forward to not only restore voting rights, but to try to prevent people from the tragedy of losing their employability through felony convictions and other things.
That particular remark stood out on The Huffington Post, where editor Paige Lavendar pointed out that Paul serves alongside Congressman John Lewis, who was actually a key figure in the civil rights movement.
Now, Paul has talked a lot about minority issues in the last year, pushing reforms in areas like criminal justice and the drug war where African-Americans are disproportionally penalized.
You can read the full Salon interview here.
[image via Gage Skidmore]
— —
Follow Josh Feldman on Twitter: @feldmaniac
Have a tip we should know? tips@mediaite.com
Josh Feldman - Senior Editor