Glenn Beck Responds To NYT Report On Future With Fox: 'Only Thing In Life That Is Constant Is Change'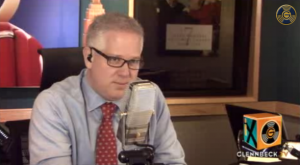 Glenn Beck returned from vacation today and had his first opportunity on his radio show to respond to the recent report from The New York Times suggesting that Fox News is "contemplating life without" him. Beck argued against many of the characterizations used to describe him in the report, and ended by leaving his viewers with a somewhat cryptic message regarding his own television future.
In case his listeners missed the original Times report, Beck humorously summarized it for them:
"Glenn Beck is crazy. He's dangerous. And nobody is watching because he's crazy and dangerous. And now he's so crazy and dangerous that even Fox that is crazy and dangerous can't even have him or his crazy and dangerous fans around."
Beck argued the frequently repeated claim that his television show has experienced a "ratings decline" is exaggerated and that the media and the American left are now merely "shampoo labels" because they just "lather, rinse, repeat." Also Beck was not pleased with the implications that he is "apocalyptic" and a "downer to watch," alleging the Times media critic is not reading the headlines in the news section of his own newspaper.
Regarding his relationship with Fox News is where business really starts to really pick up. Beck admits his contract is up at the end of the year and describes his relationship with Fox as "great." He goes on to praise Fox News boss Roger Ailes as having "built not only the most powerful name in news in America, but he has built the most powerful name in news on planet Earth." Then Beck responds directly to the issue the Times first imagined: a future where Beck and Fox News are no longer associated. Beck dismissed any reports that it is about his desire for more money or about Fox's desire to retain him cheaper. Instead, he declared, "there are no negotiation tactics New York Times, no PR move, no ratings ploy, because in the end there is only the truth and the truth has no agenda."
In other words, Beck seems to suggest that for principled men like Ailes and himself there are larger, more important issues in life than money. However, just when it seems like Beck is about to shoot down the Times as being completely inaccurate, he instead leaves listeners with an ambiguous promise that no matter what happens, no matter where he ends up, they will still be able to find him:
"I know the only thing in life that is constant is change. And so while things – and I don't know which – will change, all things do. But I know that we'll continue to find each other whether on the radio, the Internet, on stage, in movie theaters, in the pages of books that the New York elite will never read or on Fox that the New York elite will never watch."
Therefore, it remains to be seen whether Beck with this statement is "contemplating life without" Fox or whether like any great entertainer, Beck is just asking his audience to stay tuned for the thrilling resolution to the ongoing cliffhanger of what does Beck's future hold?
Watch the clip below from The Glenn Beck Program:

Have a tip we should know? tips@mediaite.com