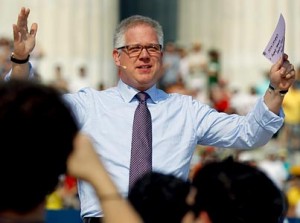 In the wake of the hiring announcement of The Huffington Post's former CEO for his news website The Blaze, Glenn Beck discussed the website's current success and future plans. Beck is eager to expand the reach of his message and promised his website "will tell the truth, one way or another, I don't care. If it does mean in the end that Barack Obama is a good guy, not gonna happen, but if it does, you will read about it on The Blaze."
Beck envisions a new media world, one in which print is essentially dead and trumped by the influence of online media. And Beck even predicts there will be some room for Arianna Huffington and her news website at the top of the credibility mountain. Beck explained:
The Huffington Post, say what you will about it, I don't read it . . . but you must give them credit, they're brilliant . . . mark my words, The Huffington Post will be The Washington Post, it will be the replacement . . . that's the place that they're going to occupy in the future. They're not going to occupy that space alone. There will be a credible, large replacement for The New York Times with possibly a slightly different view on life. Welcome to the future of The Blaze.
Given that Beck vowed that he personally was going "to put millions of dollars into The Blaze this year" and be beholden to no one, it sure seems like The Blaze is on the rise. How long before The New York Times needs to fear for its existence though remains to be seen.
Listen to the audio from The Glenn Beck Program below:
Have a tip we should know? tips@mediaite.com