Glenn Beck's Master (100 Year) Plan: Rally In August, End Of Two-Party System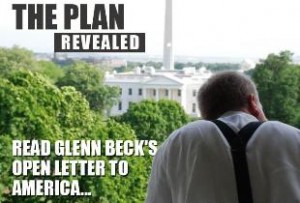 Glenn Beck revealed his master plan today in Florida, and also announced a special event in D.C. taking place on August 28, 2010.
Some key parts of "The Plan" – it lasts 100 years, it sounds like a call to end the two-party system…and it's the title of Beck's next book. Really.
Beck's rally at The Villages in Florida today was where the big reveal took place, but let's get to what he wrote on his website today first. Also, the image in this post is what you see when you type in "GlennBeck.com". In a personal note, here's what appears to be the three key points from the Fox News host:
– I have begun meeting with some of the best minds in the country that believe in limited government, maximum freedom and the values of our Founders. I am developing a 100 year plan. I know that the bipartisan corruption in Washington that has brought us to this brink and it will not be defeated easily. It will require unconventional thinking and a radical plan to restore our nation to the maximum freedoms we were supposed to have been protecting, using only the battlefield of ideas.

– All of the above will culminate in The Plan, a book that will provide specific policies, principles and, most importantly, action steps that each of us can take to play a role in this Refounding.

– On August 28, 2010, I ask you, your family and neighbors to join me at the feet of Abraham Lincoln on the National Mall for the unveiling of The Plan and the birthday of a new national movement to restore our great country.
While you let that sink in, let's turn back to today's live event in Florida. SaintPetersBlog.com was there and live-blogging, and will help flesh out Beck's note. So "The Plan" is for 100 years. Beck's inspiration for that? "We need to think like China," he said at the rally today. Also, while his note hints at it, Peter Schorsch writes, "Beck is essentially calling for the end of 2 party system."
Part two reveals, of course, the plan for "The Plan: The Book" – which will likely mean a plan for another New York Times #1 bestseller. And the third part discusses the event "at the feet of Abraham Lincoln" (of course) happening in August. There will also be "conventions" held throughout the year. Also – "If you care about your children, you will watch Fox News," Schorsch writes that Beck said today.
The New York Times' Brian Stelter talked to Beck for a pre-"The Plan" reveal story. "We'll be looking for ways to get people involved in politics," said Beck. "I hear people saying, 'O.K., now what?' They're calling their representative, but it's time to get more proactive." Also from the NYT story: "He says he will promote voter registration drives and sponsor a series of conventions across the country featuring conservative speakers." (But will he start endorsing candidates who are either third party or GOP? We'll see.)
Well, that's a lot to digest. We'll hear (and we'll write, certainly) a lot more about this in the coming weeks and months, but it's safe to say that no matter your opinion on Beck's political beliefs, you have to admire his ability to garner attention. The brilliant strategy – I mean, it's a one hundred year plan – will provide him all the fodder he needs to stay hugely relevant and popular for a very long time.
As for the content, who the hell knows? If Beck is really looking to start a movement that will have established Republicans and Democrats in previously cushy congressional seats nervous for their political future, it would truly shake the foundation of our country and its governing system. If it's going to be about flipping Congress red in 2010 and ousting Pres. Obama in 2012, it will be hard to call Beck anything other than another right-wing demagogue, albeit, one of the most creative in recent memory. Will the Cult of Glenn Beck bring real change, while it simultaneously pads the host's pockets?
Beck writes in his note: "The only one who can truly save our country…is us." But are "you" part of "us" – and are you ready for Beck to be your leader?
Here's Beck at a book signing earlier today, giving a preview of "The Plan" (via @AllahPundit):


—–
» Follow Steve Krakauer on Twitter
Have a tip we should know? tips@mediaite.com