'Go F*ck Yourself, You Piece of Sh*t': GOP Candidate Goes on Tirade Against Reporter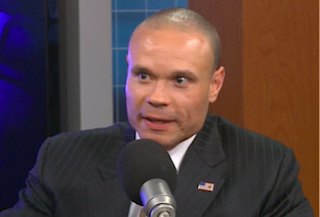 In a phone call with Politico Florida reporter Marc Caputo, Florida Republican congressional candidate Dan Bongino went on a profanity-laced rant, inviting Caputo several times to carry out a sexual act that is not physically possible.
The disagreement began when Bongino trashed a Naples Daily News report that only 6% of donations to his primary campaign against businessman Francis Rooney came from within the district. Caputo asked him what was factually inaccurate about the report, which then led to a Twitter back-and-forth between the two.
Now, before anyone cries foul, Caputo made it perfectly clear during the Twitter argument that he would be recording the call.
@dbongino @ruffdeezy @BenHowe still waiting for your # Dan. When I call, I'll record. https://t.co/fltMN57N6i pic.twitter.com/A5QSm9BOzN

— Marc Caputo (@MarcACaputo) August 21, 2016
The interview began civilly enough, but quickly devolved into insults and mutual accusations of wrongdoing. "Marc listen, you can go f*ck yourself," Bongino declared halfway through.
But it wasn't until Caputo accused Bongino of being a carpetbagger who moved from Maryland to Florida to win political office that the former Secret Service agent really let loose. "You're a real disgusting piece of sh*t. You have no idea why I moved to Florida," he retorted.
"Hey, shut the f*ck up!" he bellowed when Caputo tried interjecting. "Go f*ck yourself, you piece of sh*t. You don't know why I moved to Florida, you motherf*ucker! F*cking coward!"
Caputo was clearly amused, laughing throughout the entire tirade. "Oooooh, Dan. You really sound like you need some help," he condescended.
"F*ck you, f*ck yourself," he continued. "Wait til I shred your f*cking ass on the radio. Shut the f*ck up."
Listen above, via Politico.
UPDATE (3:46 PM ET): Bongino is locked in a primary race with Florida businessman Francis Rooney, not Florida Republican Congressman Tom Rooney as this article originally claimed. The error has been corrected.
[Image via screengrab]
——
>>Follow Alex Griswold (@HashtagGriswold) on Twitter
Have a tip we should know? tips@mediaite.com