GOP Congressman Pens Bizarre TV Pilot As 'Catharsis' From 'Destructive' D.C.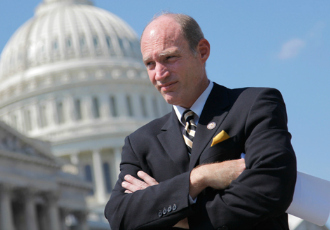 The Detroit News reports that following his failed presidential run last year, Rep. Thaddeus McCotter (R-MI) turned to a creative outlet for his frustrations: writing a lowbrow TV pilot.
The Detroit newspaper obtained a copy of the script from a former McCotter staffer. The show is called "Bumper Sticker: Made On Motown" and stars McCotter hosting a variety show cast with characters bearing the nicknames of his congressional staffers and his brother:
They take pot shots about McCotter's ill-fated bid for the White House while spewing banter about drinking, sex, race, flatulence, puking and women's anatomy. It features a cartoon intro and closing snippet with an Oldsmobile careening through Detroit and knocking over the city's landmarks. The double-finned car has a Michigan license plate reading: "Made on MoTown."
McCotter told The News the script was unfinished and was given to the reporter without his permission. He also said the work was a "cathartic" creative release to help him through the fizzling of his short-lived presidential campaign. McCotter told the paper he did not write the show on the taxpayers' time: "Most of my writing is done in my garage… where I can smoke."
The script reportedly includes a character named "Wardo," based on McCotter's District Director Paul Seewald, dresses in a bull-fighting costume, who gets drunk on a whisky-laced Slurpee and vomits on-stage. Another character based on staffer Don Yowchuang is reportedly called "Chowsers," who crudely ogles women and goes "cougar hunting," with the ice-breaker "I'm Thai."
McCotter told the paper the show was "deliberately designed to be a train wreck" to "any shard of dignity left" in the host McCotter, still reeling from the failed presidential bid. "The very fact that people wouldn't find that funny and the suffering of the protagonist of having to be involved in it was what was funny," he said.
In "Bumper Sticker," MSNBC's The Cycle host S.E. Cupp guest stars. Cupp has previously appeared on Fox News' Red Eye with McCotter. In the script, McCotter tries to ask serious questions of Cupp, while his co-stars interrupt, asking obnoxious questions like how she "keeps that great stripper bod?" and whether "D-Cupp" is dating anyone. The script casts Cupp as disgusted by the "train wreck" of the show. The News was unable to confirm if Cupp is aware of her appearance in McCotter's script.
According to the paper, McCotter rejects the notion his writing interfered with his performance as a congressman. He maintained that this script was his creative escape from the "destructive" environment in Washington. However, McCotter told the paper he is planning to leave Congress in 2014, and so he was preparing a career outside public service by trying to make connections with Hollywood conservatives.
(H/T The Detroit News)
>> Follow Andrew Kirell (@AndrewKirell) on Twitter
Have a tip we should know? tips@mediaite.com