GOP Donor: Christians Who Don't Support Trump Don't Truly Understand Their Faith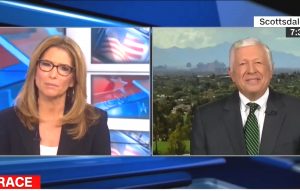 Evangelical Christian GOP donor Foster Friess said on CNN Tuesday morning that any Christians who didn't support Trump had yet to fully mature into their faith and did not appreciate Christian values.
Speaking to CNN's Carol Costello, the conservative businessman said Christians should not be conflicted about supporting Trump "if they're really embracing their Christian values."
Friess alleged that Clinton "pulled the video up" of Trump bragging about grabbing women by their genitals. (Costello corrected him: The video came from the NBC archives and was first made public by the Washington Post.) Friess said that Trump "was not to be defended" for his comments, but added, "If we don't forgive him, what value is our Christian faith if we don't forgive someone who is seeking to move forward?"
Costello pressed him about the students at the Baptist Liberty University who publicly disagreed with the school's president, Jerry Falwell Jr., one of Trump's earliest and most vocal evangelical supporters. Friess laughed off the students' concerns, saying, "I think these are young kids. Wisdom will come to these kids."
"These are voters," Costello said. "These are voters."
"Right, but I have a friend who's the sixth of six boys. He's the youngest of six boys. And he says, 'Until two of my brothers went off to college I didn't even know chickens had another part other than a neck,'" Friess said. "So you have to give these young people a little time to mature in the Christian faith to know about forgiveness."
—
Sam Reisman (@thericeman) is a staff editor at Mediaite.
Have a tip we should know? tips@mediaite.com