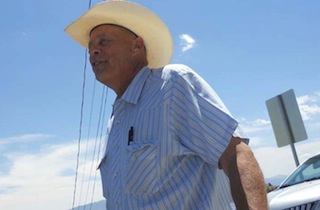 Jim Wheeler, a Republican state assemblyman from Nevada, said he'd vote in favor of slavery if his constituents wanted him to, a comment he has since retracted.
"If that's what they wanted, I'd have to hold my nose, I'd have to bite my tongue and they'd probably have to hold a gun to my head, but yeah, if that's what the constituency wants that elected me, that's what they elected me for," he said to a group of Storey County Republicans. "That's what a republic is about. You elected a person for your district to do your wants and wishes, not the wants and wishes of a special interest, not his own wants and wishes, yours."
Wheeler was originally referencing an incident in which he had opposed a bill requiring DNA testing for felony convictions, but voted for it due to his constituents' overwhelming support. When a conservative blog posed the hypothetical of voting for slavery to appease his constituents, Wheeler took the bait and told the crowd he would do so.
Wheeler made the comment in August, but it was just tweeted by the Progressive Leadership Alliance of Nevada.
The lawmaker released a statement saying his comments had been distorted, but that he would resign before voting for slavery, even at the demand of his constituents:
"The media is having a good time with a clearly facetious statement I made in atown hall meeting earlier this year. They're attempting to spin an extreme example I used about supporting my constituents to accuse me of being racist. Anybody that knows me knows that's absurd, and anyone that views the comments in context understands that the whole point of the example is that racism of any kind issomething that I find completely unacceptable.

[…] "During the meeting, I was asked how I would vote if I believed one way on an issue, and my constituents believed the opposite. I stated the truth that I believe, which is that in a Representative Republic I'm hired by the people to represent their views. I used an over the top example of something that I absolutely do not agree with, and even mentioned that to get me to vote for such a thing, my constituents would literally have to hold a gun to my head. In reality, that isn't the case at all. If my constituents wanted to do something as outlandish as bring back an abhorrent system, then I simply couldn't represent them anymore. They would remove me from office, or I'd have to resign.
Watch Wheeler's comments below, via KLAS:
[h/t Las Vegas Sun]
[Image via Lake Tahoe News]
——
>> Follow Evan McMurry (@evanmcmurry) on Twitter
Have a tip we should know? tips@mediaite.com