GOP Rep. Aaron Schock Failed to Disclose Fancy Gifts While Cavorting with British Royals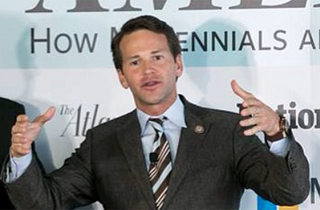 For a congressman mired in an ethics scandal started by his love of Downton Abbey, it's rather fitting that Rep. Aaron Schock (R-IL) get into further trouble for accepting gifts while cavorting around London, cosplaying as a British royal.
According to Politico, Schock failed to disclose gifts he received while traveling in London and attending upper-crust events with British royalty in June of 2011, including dinner, drinks, and an actual gift of fine china.
As the plus-one of a guest invited to a string of events thrown by the Prince of Wales Foundation, which "allows guests to rub elbows with British royalty at some of England's most famous national landmarks," Schock attended the following snooty things:
Schock's itinerary for the London trip included: cocktails with then-U.S. Ambassador Louis Susman at the ambassador's official residence; cocktails and dinner at Windsor Castle; and cocktails, dinner and dancing at Annabel's, a members-only restaurant. The capstone of the excursion was cocktails and dinner at Buckingham Palace in the Queen's Gallery, with Prince Charles and Duchess of Cornwall Camilla in attendance. He also attended the Ascot races in the Royal Enclosure, the annual prestigious steeplechase.

Attendees of the events were also given an Anna Weatherley dinner plate when they exited the Palace on the last night of the event, with a custom note from the foundation on the back.
Unfortunately, unlike British royalty, Congressmen have strict disclosure laws when it comes to traveling abroad and attending events: not only was Schock not invited by the Foundation, the event had nothing to do with his official duties. Politico notes that while he absolutely cannot accept a gift more than $50 — and an Anna Weatherly plate, hand-painted and accented with 24-karat gold, definitely costs more than $50 — he could have filed a request for an exemption if he received a gift worth more than $250 from a personal friend. Schock never did so, and we're pretty damn sure that a trip to London to see the ponies race costs way more than $250.
Politico also delved into a fundraiser held at a Maryland golf course that raked in more than $125,000, in which Schock treated donors to "course-side masseuses, a personal cigar roller complete with his initials on the band and monogrammed shirts."
But the England trip, which Schock declined to comment on, is much more hilarious and indicates that the Congressman secretly just wants to be Lady Mary Crawley.
[Politico]
[Image via Aaron Schock/Instagram]
—
>> Follow Tina Nguyen (@Tina_Nguyen) on Twitter
Have a tip we should know? tips@mediaite.com