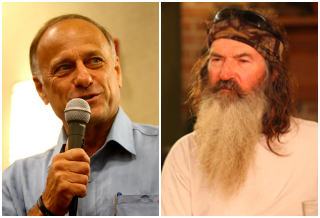 The Robertson family, A&E and Walmart aren't the only ones making money off of the massive year-end Duck Dynasty controversy. Rep. Steve King (R-IA) invoked the backlash to Phil Robertson's comments about homosexual sex in an email to supporters earlier this week.
According to the Des Moines Register, King's email said that the Duck Dynasty situation "illustrates the left's unspoken rule that tolerance is a one way street. Conservatives are to be tolerant of liberal ideology; however, the left need not be tolerant of conservative Christians."
King continued:
I have been in similar situations to the one Phil Robertson finds himself in now. I have learned to navigate their intolerance while holding firm to our values. Whether it's the Robertsons or anyone who finds themselves in the crosshairs of the media or a leftist hyperventilater sitting across the table at the local diner, employ this strategy:

Don't back down. If you are right and you are standing on principle, whatever you do, don't back down. The second you back down, they win.

Don't apologize. John Wayne said, "Never apologize. It's a sign of weakness." I agree, unless we are wrong and we are not wrong.

Double down. Americans recognize courage and conviction. If the left attacks our conservative beliefs, I say, "If you don't like that, here's some more."

Never waiver from the truth. This includes taking on all the left's false premises before they become the perceived truth. The left is not held accountable to the truth — it is our duty to expose them. Objective truth is a shield protecting us from the left.

Tolerance has never been a two-way street with the left. Time and time again conservatives are lambasted for stating their opinions, the opinions derived from faith, family, and an understanding of history. Once again the left encourages a double standard to advance their agenda.

As you know, I have not and will not back down. And like other conservatives who stand their ground, I'm always a top target of the left.
King went on to explain that with Rep. Michele Bachmann (R-MN) retiring and Col. Allen West no longer in the House, he is the "last one standing" when it comes to major conservative targets up for re-election.
His expected Democratic challenger Jim Mowrer told the Register that if elected he will "work to focus on ensuring job opportunities, investment and infrastructure, clean American energy and getting a farm bill passed," adding, "I don't have a comment on Congressman King's comments on a reality TV show actor's comments."
The Republican has made a number of statements over his ten years as a congressman. Though it did not generate as much coverage as Robertson's comments, King stirred controversy early last year when he described immigrants to the U.S. as "evil" marijuana smugglers with "calves the size of cantaloupes."
[photos via Wikimedia Commons, A&E]
— —
>> Follow Matt Wilstein (@TheMattWilstein) on Twitter
Have a tip we should know? tips@mediaite.com