Chair of the House Select Committee on Benghazi Trey Gowdy (R-SC) pulled out of a fundraiser hosted by the Virginia Republican Party Monday after it was revealed that the fundraiser was Benghazi-themed.
The National Review's Jim Geraghty first reported on the fundraiser Monday morning, tickets for which started at $75 apiece, with VIP options maxing out $5,000. The event even included a special hashtag #GowdyonBenghazi: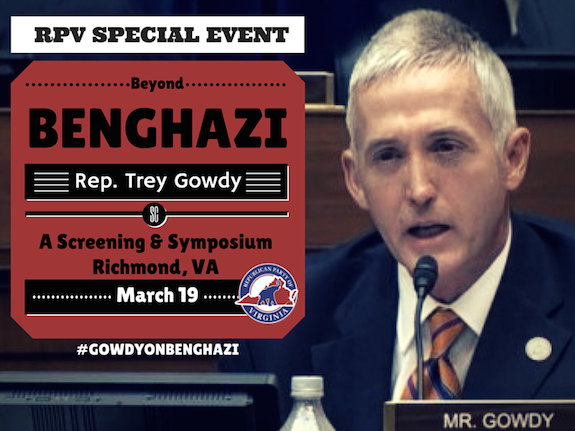 This was at odds with Gowdy's previous statements on not fundraising off the Benghazi investigation. After the Select Committee was announced in May of last year, Gowdy told Morning Joe that the GOP should refrain from fundraising off Benghazi — an awkwardly-timed comment that was voiced at the exact moment an NRCC-run website sent out an email soliciting donations for "Benghazi watchdogs."
"I have never sought to raise a single penny on the backs of four murdered Americans," Gowdy said at the time. "There are, even in a culture of hyper-partisanship, certain things that ought to be above politics, like the murder of our four fellow Americans."
Gowdy later had to tell the NRCC to knock it off. "I cannot and will not raise money on Benghazi," Gowdy said on CNN. "I also advise my colleagues to follow suit, and I think I did so in a pretty unambiguous way."
Gowdy's office said he had not been aware of the fundraiser's theme when he agreed to it.
"The Chairman was unaware that organizers of this event intended to feature or even mention Benghazi," a spokesperson for Gowdy told Mediaite. "He has not raised money using Benghazi, and will not speak about Benghazi at fundraising events. Having been made aware of this group's plan, he no longer will be participating in the event."
[Image via National Review]
——
>> Follow Evan McMurry (@evanmcmurry) on Twitter
Have a tip we should know? tips@mediaite.com