GOP State Senator Slams Kwanzaa: 'Almost No Black People Today Care…Just White Left-Wingers'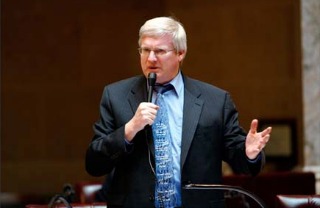 In a press release Monday, Wisconsin state Senator Glenn Grothman (R-West Bend) slammed Kwanzaa, characterizing it as a "supposed" holiday and saying, "Almost no black people today care about Kwanzaa — just white left-wingers who try to shove this down black people's throats in an effort to divide Americans."
"Why must we still hear about Kwanzaa?" Grothman asked, according to Patch. "Why are hard-core left wingers still trying to talk about Kwanzaa?"
He also blasted what he called "irresponsible public school districts" in the state for attempting "to tell a new generation that blacks have a separate holiday than Christians." Grothman called for the holiday to be "slapped down."
Kwanzaa was created several decades ago by a professor at California State University, Long Beach, Maulana Karenga. Karenga also founded the black nationalist group Organization Us and served time in prison for allegedly beating a female member.
Grothman called Karenga a "violent nut" and said he "didn't like the idea that Christ died for all of our sins, so he felt blacks should have their own holiday — hence, Kwanzaa."
Meg Moen, Democratic Party leader of Ozaukee County in Wisconsin, was incensed by Grothman's comments.
"Senator Grothman seems to outdo himself every time he opens his mouth. His recent press release about Kwanzaa was absolutely jaw-dropping. Not only does Senator Grothman seem to find his inherit racism acceptable, he implores people to follow his lead and question a holiday that African-Americans have been celebrating for years."
Moeg called the press release "absolutely disgusting" and called for Grothman to retract his statements.
h/t HuffPo
—
>> Follow Anjali Sareen (@AnjaliSareen) On Twitter
Have a tip we should know? tips@mediaite.com