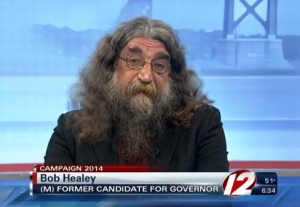 The 2014 midterm elections were the most expensive midterms ever, costing a little over $4 billion dollars for very incremental gains for the Republicans — which is why the story of Bob Healy, who took third in the Rhode Island governor's race, is so relieving. Healy, see, spent $35 of his own dollars on his campaign — and took 22% of the vote. (No, this is not Ross Perot's evil doppelganger.)
"It's amazing what $35 can do," Healy, who is not Mandy Patinkin in disguise, told Eyewitness News in Providence. "As I've been saying, if we only spent $75, $80, we might've won the race." (Republican Allan Fung came in second with 36%, and Democrat Gina Raimondo won with 40%. We're comfortable with saying that both spent substantially more than $80.)
Healy's secret weapon was something that Fung and Raimondo lacked — name-brand recognition. As the Washington Post recapped his illustrious career:
Healey first ran for governor in 1986 as an independent, and got less than 2 percent of the vote. He has run for lieutenant governor several times, promising to abolish the office if he ever won. In 2010, he came in second place with 39 percent of the vote. He once ran for a local school board with the slogan, "Strange Man for a Strange Job."

His low-cost billboards — which the former house painter does mostly himself — are usually the most visible in Rhode Island during campaign season. He usually paints them on the side of his friends' houses.
He ran in this cycle as a member of the Moderate Party after its candidate was forced to drop out, and actually won many towns on his (Normally, he runs as a member of the Cool Moose Party.)
Watch below via Providence Eyewitness News:

[The Washington Post]
[Image via screenshot]
—
>> Follow Tina Nguyen (@Tina_Nguyen) on Twitter
Have a tip we should know? tips@mediaite.com