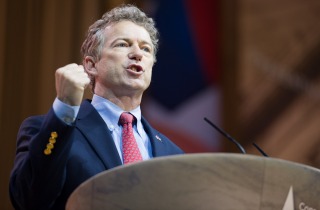 It's no secret that Kentucky Sen. Rand Paul is considering a presidential run in 2016. However, with his current Senate term expiring in the same year, Kentucky's current electoral laws would pose a roadblock to Paul's presidential aspirations. According to the current law in Kentucky, "no candidate's name shall appear on any voting machine or absentee ballot more than once," meaning Paul couldn't run for re-election to the Senate if his name is on the ballot for the presidential contest. But according to a new report, Kentucky Republicans are considering amending that statute to allow Paul to have his name on the ballot for both races.
Turning Kentucky's presidential primary into a caucus would allow Paul to run for president and, in the event he does not win, still be able to keep his Senate seat if he fends off a challenger. But Kentucky Democrats likely will not budge. After taking control of the Kentucky statehouse on Tuesday, they hope to keep the current law in place so that Paul would have to abandon his Senate seat in pursuit of a presidential run.
At Mitch McConnell's victory party on Tuesday night, Paul reportedly spent 30 minutes discussing the prospects of changing the law with Steve Robertson, the chair of the state Republican Party.
"He's got as many questions about it as I do," Robertson told Politico. "He's just curious how it would work."
A spokesperson for Paul said the senator is "100 percent committed to running for re-election," and wouldn't make a decision about a presidential run until next Spring.
The idea of running for two offices at the same time isn't a foreign one, either — if you don't live in Kentucky. Vice President Joe Biden did it in Delaware in 2008, and Rep. Paul Ryan did it in Wisconsin in 2012.
[Image via Shutterstock]
— —
>>Follow Andrew Desiderio (@forza_desiderio) on Twitter
[Note: Mediaite intern Andrew Desiderio is a student at The George Washington University.]
Have a tip we should know? tips@mediaite.com