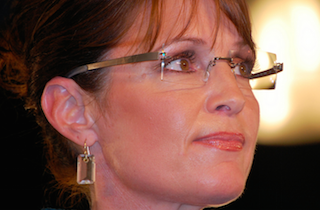 Like nearly every other conservative with a public platform, Sarah Palin has been using former IRS official Lois Lerner's missing emails as a tool to attack the Obama administration. But of all people, perhaps Palin should not be so quick to highlight a mysterious gap in email communication. Following her short stint as governor of Alaska, her office released a supposedly comprehensive trove of emails that had its own unexplained one-month gap.
Two weeks ago, when news of the missing emails broke, Palin quickly registered her thoughts on the matter via Twitter and Facebook. First she tweeted this missive using the opportunity to compare President Barack Obama with former President Richard Nixon:
Nixon Admin Watergate Communications 18 min gap; Obama Admin Lerner Communications 1,052,000 min gap. Difference? Not even a smidgen.

— Sarah Palin (@SarahPalinUSA) June 14, 2014
Then, she expanded on that thought with a longer Facebook post that went after the Obama administration's promises of "transparency." She wrote, "And about that promise of transparency? About that claim to be 'The Most Transparent Administration Ever'? All bark, no bite." See the full post below:
Perhaps Palin forgot what it was like to be the subject of a similar investigation exactly three years earlier after her office released her emails to the press. On June 13, 2011, the Anchorage Daily News reported that "Nearly a month of former Gov. Sarah Palin's emails are missing from the documents released to media organizations last week, a gap that raises questions about what other emails might also be missing from what's being nationally reported as her record as Alaska governor."
According to the documents Palin's office provided, she sent no official emails from between December 8, 2006 and December 29, 2006, in other words her first full month in office. As the paper put it, "That means zero emails during a period during which, among other things, Palin put out her proposed state budget, appointed an attorney general, killed the contract for a road out of Juneau and vetoed a bill that sought to block state public employee benefits to same-sex couples."
The Anchorage Daily News that the gap was due to Palin's preponderance to use a personal Yahoo email account instead of the official state account, thereby allowing her to hide certain communication from public view. The first email Palin was on record as sending came on January 2, 2007, one month after she took office.
If the IRS deliberately destroyed evidence of wrongdoing by "losing" emails, that would be unacceptable. So far, there is no concrete evidence that that is what happened. Similarly, Palin's camp never offered an explanation for the missing emails from her office and we will likely never know if they were intentionally trying to hide specific actions.
Either way, Palin's decision to focus her anger on missing emails has more than a whiff of hypocrisy.
[h/t @HonestyinGov]
[Photo via Wikimedia Commons]
— —
>> Follow Matt Wilstein (@TheMattWilstein) on Twitter
Have a tip we should know? tips@mediaite.com