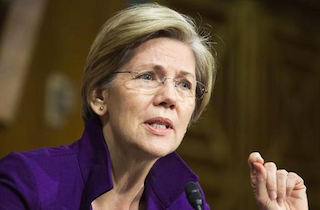 If black Democrats can help decide Mississippi's Republican Senate primary, then why can't conservative columnists influence the Democratic presidential nomination? On Friday, National Review writer and Fox News contributor Jonah Goldberg put out a column that urges Sen. Elizabeth Warren (D-MA) to challenge Hillary Clinton for the 2016 Democratic nomination and become "the Obama of 2016."
Goldberg recalls the year 2007, when Clinton seemed to be the "inevitable" candidate before then-Senator Barack Obama — "inexperienced and underqualified" — jumped into the race and took the nomination from her. Given the Democratic Party's focus on income inequality, something Goldberg finds "foolish," he writes that now is the perfect time for Warren to do the same. He even notes that Dave Brat unseated former House Majority Leader Eric Cantor (R-VA) using a similar brand of populism to Warren's.
Goldberg then breaks down just how Warren will be able to take Clinton down:
Warren would be able to defuse Clinton's greatest asset (her gender) and exploit Clinton's greatest liability (her wealth and how she came by it) while in the process generating huge excitement from the status quo–weary grassroots.

Start with gender. The Clinton team is reviving the ludicrous claim that opposition to her candidacy is sexist. (They tried that line on Team Obama in 2008, but Team Obama came back with insinuations of racism.) What fun it would be to watch the Clintons try to spin support for Warren as sexist.

Then there's Clinton's wealth. Ever since claiming she was "dead broke" when she and her husband left the White House, Clinton has been desperately trying to remove her feet from her mouth.
While it's possible that Goldberg truly believes Warren has the ability to remove Hillary Clinton from the equation, his motives do seem a bit suspect. Presumably, whoever the Republican nominee ends up being will have an easier time defeating a relative unknown like Warren than they would beating Clinton. But then again, Obama did not have much trouble beating John McCain in 2008.
Read the full column at nationalreview.com.
[Photo via Joshua Roberts/Reuters]
— —
>> Follow Matt Wilstein (@TheMattWilstein) on Twitter
Have a tip we should know? tips@mediaite.com