Hacked Podesta Emails Reveal Hillary Clinton Wanted to Avoid the Press All Summer 2015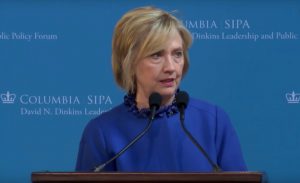 The hits keep coming.
While Republican nominee Donald Trump is batting away his own fair share of negative headlines during this particular news cycle, his Democratic rival has had the pressure turned up on her candidacy thanks to Julian Assange and WikiLeaks.
This morning, WikiLeaks released the fourth batch of hacked emails of campaign Chairman John Podesta, the latest in the group's effort to force transparency during the 2016 campaign. While many have alleged that Assange is simply trying to meddle with the American election, the WikiLeaks founder recently maintained, "We hope to be publishing every week for the next 10 weeks," and the Podesta emails have so far yielded some tough headlines for the Clinton camp to bat down.
Mediaite and LawNewz have found that one of the hacked emails released this morning comes from just three weeks after the former Secretary of State announced her candidacy for the White House. On May 21, 2015, Huma Abedin wrote an email with the subject line "HRC feedback":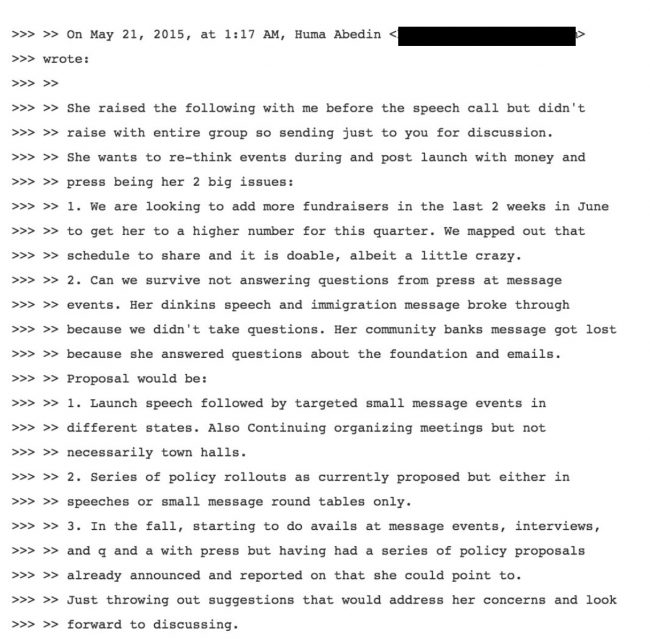 "She wants to re-think events during and post launch with money and press being her 2 big issues," wrote Abedin at the time. She continued by highlighting that Clinton was hoping to skate by and avoid the press for the duration of the summer last year, writing, "Can we survive not answering questions from press at message events. Her dinkins speech and immigration message broke through because we didn't take questions. Her community banks message got lost because she answered questions about the foundation and emails."
The "dinkins speech," Abedin appears to be referencing is from an April 29, 2015 keynote speech that Clinton gave at Columbia University in New York City for the David N. Dinkins Leadership and Public Policy Forum (Dinkins is a former mayor of NYC).
Campaign manager Robby Mook cheerily responded, "Very helpful–thank you!" but Podesta himself called out the scheme as not being a very good idea.

Podesta responded, "If she thinks we can get to Labor Day without taking press questions, I think that's suicidal. We have to find some mechanism to let the stream out of the pressure cooker."
Abedin then suggested that perhaps Clinton would be open to some press availability "when shes [sic] out getting ice cream."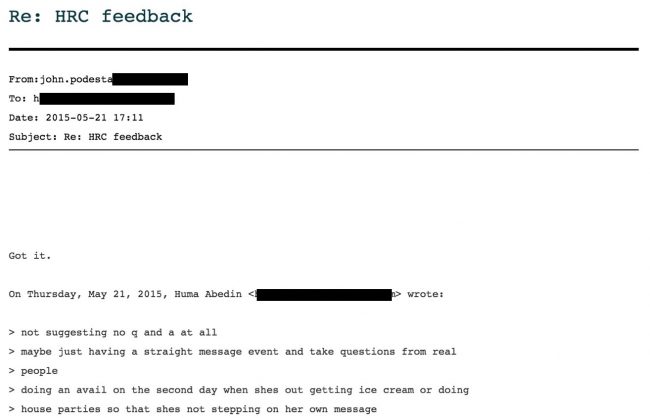 You can view the original WikiLeaks email here.
—
J.D. Durkin (@jiveDurkey) is an editorial producer and columnist at Mediaite.
Have a tip we should know? [email protected]