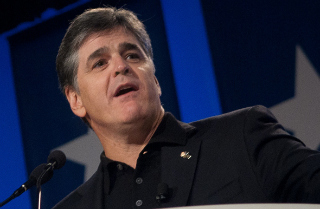 On his radio show this afternoon, Sean Hannity tore into what he sees as the media "fawning" over President Obama's second inauguration while treating President George W. Bush's inauguration with skepticism and contempt.
Citing our very own Noah Rothman's column "A Tale Of Two Inaugurals: In 2005, Media Sneers; In 2012, Media Cheers" for examples, Hannity criticized what he sees as a disparity in the media treatment of the two presidents.
"Do you think the media could have fawned anymore over President Obama yesterday?" Hannity began. "The media — it is a love affair. It is a special kind of love. I called it Obama-Mania, Obama-gasm — call it whatever you want to call it."
He quoted Rothman: "In January of 2005, media outlets were aghast over the pomp and tone of Bush's second inauguration festivities — before they had even occurred. 'Some critics say spending so much on these parties seems ill-timed both because of the Iraq war and the tsunami catastrophe in Asia,' [wrote the New York Times]."
Rothman also cited ABC's anchor of World News Tonight, Terry Moran, who asked, "In a time of war and natural disaster, is it time for a lavish celebration? The total cost associated with all the parties and ceremonies are expected to exceed $140 million. And some people are asking whether it's the right time for a celebration like this." Moran then tossed over to an ABC reporter who asked anti-war activist Cindy Sheehan for her thoughts. "Wonder what she's going to say," quipped Hannity.
Frustrated, Hannity then concluded, "What can you say? It is what it is. The media is just an extension of the Obama political team and press office. Pretty much, broadly speaking."
Listen below:
— —
>> Follow Andrew Kirell (@AndrewKirell) on Twitter
Have a tip we should know? [email protected]