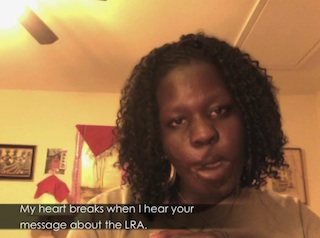 Recently, President Obama authorized the deployment of 100 military advisers to help forces in Africa fight the Lord's Resistance Army. Quickly, Rush Limbaugh criticized the President, accusing him of sending troops to fight a "Christian group" just because it was at war with Muslims. Unfortunately though, Limbaugh was either unaware of or chose to disregard a small detail about the LRA; they are actually a terroristic militant group that is responsible for the brutal massacre of thousands and the kidnapping, beating, and brainwashing of tens of thousands of African children.
Well, Limbaugh certainly knows now. Amidst a surge of controversy over his comments, one of those kidnapped children, now grown, has recorded a message for the radio host and it is truly heartbreaking.
Evelyn Apoko is now 22 years old and works with the Strongheart Fellowship Program, a non-profit group designed to "help bright, resilient young people from extremely challenging circumstances around the globe." However, her scarred face shows the pain she once faced.
From the Strongheart Fellowship Program's website:
"When she was just a little girl, Evelyn Apoko was abducted in the middle of the night by a brutal rebel group in Uganda that calls themselves The Lord's Resistance Army. Left unchecked by the world community for decades, the group – which is also known as the LRA – has abducted thousands of children to serve as soldiers, porters or sex slaves. After years in captivity, Evelyn was badly wounded and faced the terrible choice of attempting a near-impossible escape or certain death at the hands of the rebels who were repelled by her horrific injuries. Miraculously, Evelyn escaped and made it to a rehab center and hospital, where she came to the attention of Strongheart."
Her video begins with the simple text, "Dear Mr. Limbaugh," and then Apoko begins talking, finding the words difficult either because of tears or her wounds.
"I am a former abducted child. My heart breaks when I hear your message about the LRA. I experienced first-hand the pain and hatred of humanity in the LRA. I know that there is nowhere in the Bible that says Christians should treat humans like animals. "
If there's anything good that can come from Limbaugh's fairly heinous blunder, it is a larger awareness of the LRA and their atrocities. And a lesson to everyone not to speak before making sure their personal politics haven't blinded them to the facts of the world around them.
Watch Apoko's video below:
Have a tip we should know? tips@mediaite.com