Helen Thomas' White House Briefing Room Nameplate Reappears as Mysteriously as it Disappeared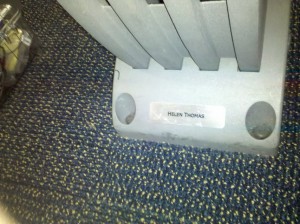 Last August, Mediaite reported that Helen Thomas' nameplate had disappeared from her famous front-row-center seat in the White House briefing room. At the time, sources within the White House Correspondents Association and the White House press office were baffled about the disappearance.
Tuesday night, however, the iconic nameplate was back in its old spot, affixed to the front row seat that now belongs to the Associated Press.
As I got ready to watch the President's State of the Union address in the Brady Briefing Room, I happened to glance under Helen's old seat, and took a closer look to see if the WHCA had updated the nameplate. I was startled to see Helen's nameplate affixed there, no worse for the wear. A comparison with a photo of the original nameplate confirms that it's the same one, slightly bent in places.
Once again, sources at the White House and the WHCA have no idea how the nameplate was returned, but there it is. This is the first time I've checked in a while, so there's really no way to tell how long it's been back.
Coincidentally, Helen Thomas is also in the process of trying to return to the Brady Briefing Room, having applied for a White House "hard pass." Because she retired, the White House says she'll have to go through the application process again, but the criteria will be no different than for any other journalist. A "hard pass" isn't necessary, however, to cover the White House, and Helen could return at any time on a daily pass. Helen is now a columnist for the Falls Church News-Press.
Have a tip we should know? tips@mediaite.com