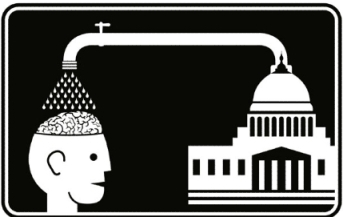 Ahead of Pres. Barack Obama's brainwashing of speech to America's children today, the White House has released the full remarks yesterday, perhaps to help the indoctrination process.
The speech, titled "Prepared Remarks of President Barack Obama Back to School Event," was released yesterday, and – spoiler alert – it starts with "Hello everyone" and ends with "God bless America." But what's inside? Let's try to guess which part will get the most play in the media today:
The speech will take place at a school in Arlington, Virginia, and is just short of 2,500 words.
Here's the thesis:
Unless you show up to those schools; pay attention to those teachers; listen to your parents, grandparents and other adults; and put in the hard work it takes to succeed.
And that's what I want to focus on today: the responsibility each of you has for your education. I want to start with the responsibility you have to yourself.
Alright, stay in school, take responsibility for your education – got it. What else?
The story of America isn't about people who quit when things got tough. It's about people who kept going, who tried harder, who loved their country too much to do anything less than their best.
It's the story of students who sat where you sit 250 years ago, and went on to wage a revolution and found this nation. Students who sat where you sit 75 years ago who overcame a Depression and won a world war; who fought for civil rights and put a man on the moon. Students who sat where you sit 20 years ago who founded Google, Twitter and Facebook and changed the way we communicate with each other.
"Revolution" – could this be the key word? Also, nice Twitter and Facebook shout-out. (Another shout-out in the speech: iPhone.)
One other interesting note – the "rappers" and "ballers" anecdote has been expanded to include "being a reality TV star." A shot at McCain-supporting Speidi?
This is really it. It's very much a pep talk for kids to do their homework, mixed with some "Chicken Soup For The Soul" and a dash of stump speech rhetoric. Parents who complained about not wanting Obama to impart his political beliefs on their children have nothing to worry about. It's apolitical and beyond mild.
Of course, this will be an enormous media story all day today and likely for the rest of the week.
Here's the full text.
—–
» Follow Steve Krakauer on Twitter
Have a tip we should know? tips@mediaite.com