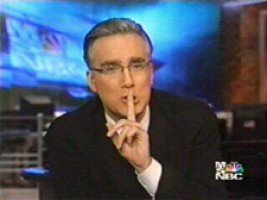 Countdown host Keith Olbermann has issued a call to the millions of readers at Daily Kos to dig up some dirt (real dirt, not this kind) on Fox News personality Glenn Beck, his producer, and Roger Ailes. The "Fox-twa" comes on the heels of the resignation of Obama adviser Van Jones, whose abrupt departure has been attributed to a weeks-long campaign by Beck. The Scrabble-averse pundit has already set his sights on new quarry, and Keith is pushing back.

In a blog post at Daily Kos, Olbermann makes this straightforward plea:
I don't know why I've got this phrasing in my head, but: Find everything you can about Glenn Beck, Stu Burguiere, and Roger Ailes.
Predictably, Olbermann's decree has been met with apoplexy from the right, casting Beck as the future victim of a "smear campaign." I'm not sure what the logic here is, unless the right is now conceding that Van Jones was also the victim of a smear campaign.
So far, the lion's share of the 1,350 Kos commenters have ignored Olbermann's request, however, leaving some poor intern to sift through suggestions to stop watching The Simpsons and NFL Football. Good luck with that.
Others have posted links detailing some Beck that has already slipped through the cracks:
Olbermann also announced plans to issue his plea on Tuesday's broadcast, and to set up a dedicated tipster's email. In future news, Keith Olbermann's Tipster Email Spammed By Conservatives.
Also noteworthy: Olbermann again denies that he ever agreed to a truce with Bill O'Reilly, and in the comments, observes unironically that "This guy does not take criticism well."
It's tough to say whether a TV and blog audience will be able to outdo some googling and a Lexis-Nexis search, but Beck is unlikely to gain any traction playing the victim here. Much of that depends on the zeal and methodology of Keith's million deputies.
Have a tip we should know? tips@mediaite.com