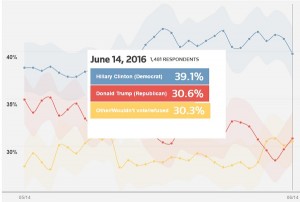 On Tuesday, we reported that despite recent polls showing presumptive Democratic presidential nominee Hillary Clinton widening her national lead over presumptive Republican presidential nominee Donald Trump, there are disturbing early signs that Trump might enjoy a polling spike following the Orlando mass shooting this past weekend. On Tuesday night's The Rachel Maddow Show, host Rachel Maddow dug into a different poll that reinforces that notion, and spoke a very uncomfortable truth about its possible ramifications.
Despite a truly horrific and unhinged reaction to the Orlando massacre that included accusing President Obama of sympathizing with terrorists, Trump's support spiked in a tracking poll following the attack, shooting up three points in two days. In a Bloomberg poll taken partially after the attacks, Maddow points out that while Clinton leads Trump nationally, the internals contain a disturbing detail:
Maybe what Donald Trump is doing is working. Maybe people like it. And if so, we are up against some very dark questions about who we are as a country, and how strong we are as a country, and what we are susceptible to.
During the Republican primaries, Trump enjoyed polling bumps after terrorist attacks in Paris and San Bernardino, not so much after the Brussels attacks, but seeing him possibly jump up like this in a general election, particularly given his response to the Orlando attack, is frightening. Perhaps this is a momentary knee-jerk reflex among right-leaning independents or quavering #NeverTrumpers, and maybe once the insanity of his reaction sinks in, this will dissipate, but that Reuters graph is scary right now.
The good news, if there is any, is that the next week or so will tell an important tale about this election. Even if Trump gets a big polling bump when polls taken after the attack are all in, but Hilary Clinton maintains her lead, it will indicate just where the ceiling on terror fearmongering is. This week will be as vulnerable as Hillary Clinton will ever be to the politics of fear that Trump is exploiting, so if she survives with a lead, it will be an encouraging sign for the remainder of the campaign.
If not, if Trump should manage to overtake Hillary this week, then she and President Obama really have their work cut out for them, because frightened people don't listen very well.
This is an opinion piece. The views expressed in this article are those of just the author.