Herman Cain: Liberal Media Is 'Scared That A Real Black Man Might Run Against Obama'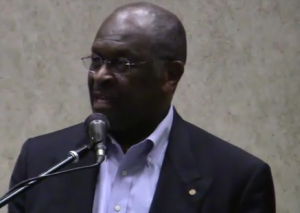 Potential Republican candidate for President Herman Cain apparently doesn't want Donald Trump to be the only presidential hopeful to get all the headlines this week. After sharing some comments about Muslims that raised eyebrows, Cain is back again with some theories regarding why the "liberal mainstream media" is scared of certain Republican candidates and "doubly scared" of him.
Speaking at a Tea Party event in Florida, Cain declared:
"The liberal mainstream media, notice how they have tried to destroy Sarah Palin, notice how the more popular Michele Bachmann gets, the more they try to destroy her? You want to know why they go after those two ladies more viciously? Because they know that Michele Bachmann or Sarah Palin is going to draw a lot of the women vote away from the Democrat party. They are scared to death of that if they were to run and get the nomination. They are doubly scared that a real black man might run against Barack Obama."
In addition to alleging that the media is trying to protect Obama from having to face him, Cain dismissed the idea that one "bad" black President would result in people being reluctant to vote for another black man. Instead, Cain argues "if you think about the first 43 presidents, they were all white – were they all great? I think we have a few duds in that group. So now you get a chance to be batting 500, get rid of him and elect me!" Much like Trump, Cain certainly can be provocative and entertaining, but it remains to be seen whether a wider audience will be receptive to his often blunt tone.
Watch the clip below from The Shark Tank:

Have a tip we should know? tips@mediaite.com