Video Of Rep. Sean Duffy Complaining About His $174,000 Salary Hits Internet, Wisconsin GOP Tries To Get It Off (UPDATE)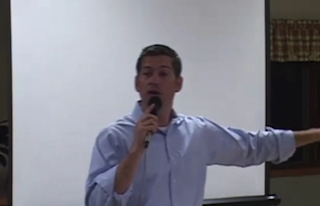 Recently, Congressman Sean Duffy spoke at a town hall meeting and was asked why his yearly salary ($174,000) should be three times the size of the man's entire family. Duffy chose an unfortunate tactic, complaining that he's still "in more debt" than anyone in the room. After the Polk County GOP posted a video of the entire event on their YouTube account, news outlets began picking up on this moment (as well as Duffy's assertion that he'd take a percentage decrease if public employees "across the board" did) and reposting the video. Soon, the GOP had taken their video down and was furiously sending out emails to get the others off as well.
Here's what Duffy said in the moment in question (transcription from the Washington Post):
Well our budget — I moved to cut by 5 percent. I did. You know what, I have no problem — let's have a movement afoot. I walked into this job 6 weeks ago that I worked incredibly hard for. And I can guarantee you or most of you, I guarantee that I have more debt than all of you. With 6 kids, I still pay off my student loans. I still pay my mortgage. I drive a used minivan. If you think I'm living high off the hog, I've got one paycheck. So I struggle to meet my bills right now. Would it be easier for me if I get more paychecks? Maybe, but at this point I'm not living high off the hog.

I think we should all take a step back. And go, can everyone do more with less? Absolutely. And the point is, if you want to say, let's have..let's have our public employees across the board take a percentage decrease. Because..um if you look at the benefits I have right now, they are consistent with the proposal I think that has been made by uh the Governor. …let's take a pay decrease..let's go across the board and all join hands together let's all take a pay decrease and I'll join with you. Absolutely.
After Talking Points Memo posted a version of the video, the Polk County GOP sent a complaint to Blip.tv, the video hosting service that TPM uses, claiming that they were infringing on copyright and demanding it be taken down. Instead, TPM left the video up and posted the complaint email.
In the end, it's possible that these complaints will do more harm than good. By trying to get the video off the Internet (a near impossible task), they've only called attention to it and made it appear that they themselves think Duffy said something wrong. And so, what could have been a quiet snafu will quickly become a national meme about the Congressman who clearly doesn't live in the real world.*
*Here's a lesson, kids: Never do a reality show. It will stain your life forever. Sean Duffy is a member of friggin' Congress and, yet, nine out of 10 articles about this still mention that he was on that MTV show 14 years ago.
UPDATE: The Wisconsin Democrats have seized upon the opportunity. Right now, this image is tearing up the front page of Reddit.
Here's the controversial video:
(h/t TPM)
Have a tip we should know? tips@mediaite.com