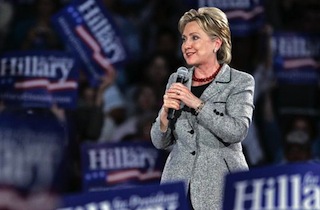 In ten days, Secretary Hillary Clinton will celebrate her 68th birthday, and if you are like me and have signed up for the Clinton campaign emails you know that they are playing this card to squeeze out every possible donation.
I signed up for the Clinton emails on my first day here at Mediaite; I figured it was good practice to be in touch with the fundraising efforts of many of the candidates, although if I were Clinton, I would certainly brainstorm on alternative ways of spreading my message rather than using email. Clinton's efforts stand out from the pack, and one in particular from yesterday deserved closer examination on this Friday.
The first thing to know when you're one of the lucky ones to receive these Clintonian updates is that they very often change the sender name from "Hillary Clinton" to another surrogate to grab your attention; recently I've been getting emails from "Bill Clinton" who said on Wednesday "I was so proud of Hillary last night" and even some from "Chelsea Clinton" who opened up one recently with "My mom is my hero." Fair enough. For all of these of course, the email address is the same: info@hillaryclinton.com. After all, you didn't think we'd receive messages from HDR22@clintonemail.com, did you?
The Clinton staff apparently doesn't think it's worth it to utilize the "mail merge" function and include each recipient's name, opting for "Friend" at the top of each instead; to be fair, neither do most of the GOP candidates (my Jeb Bush emails come addressed similarly — can I be a friend to both Hillary and Jeb?). At least Bernie Sanders' emails personalize a "J.D." at the top, but power to the people is Socialism 101, so I'm not surprised.
Parsing through yesterday's Clinton email, she begins strongly enough:
Some women don't like to discuss their ages, but I think that on your birthday, you should live it up! This year, I'm excited to celebrate the fact that I'm running to be the youngest woman ever to be President of the United States.
That female vote won't pull the lever in the booth by itself, and this opener shows a bit of humor. Of course, she doesn't say how old she's going to be on October 26th, but that's what Google is for. Otherwise it's a strong start with a cute joke about her "outsider" identity as a woman. She continues:
In that spirit, I've invited some of my favorite people to New York City to have a party.
Are you kidding Hillary? You want to clog up our streets with your rope lines just so you can throw yourself a birthday party? We're still in bumper-to-bumper on the FDR Drive from the Pope's visit and I'm pretty sure people are stuck on Roosevelt Island from when you insisted on launching your campaign there in June. Honestly, who knows how to get off of Roosevelt Island?
Not to mention that your birthday party may coincide with the Mets in the playoffs, and if you think you're going to stop Mets fans from crowding the streets if deGrom tosses a gem, fuhgeddaboudit.
John Legend is going to sing, I might even dance, and we're all going to have a great time.
This is understandable. The party is being held three days after Clinton is set to testify at the House Select Committee on Benghazi, so Legend's rendition of "Don't You Worry 'Bout A Thing" will be much needed.
As for the dancing, please promise to bring back the Hil-ified Whip/Nae Nae and we'll call it a day.
I would love for you to be there. All you have to do is sign up, and you and a guest could win a free trip to be my VIP guests.
It's a sad state that our political campaign process relies on rhetoric usually associated with Wheel Of Fortune travel packages in order to entice voters. However, to the credit of the Clinton camp, they are capitalizing (with emphasis on 'capital') on her birthday and where it falls on the campaign calendar to get a leg up. You can't knock the hustle.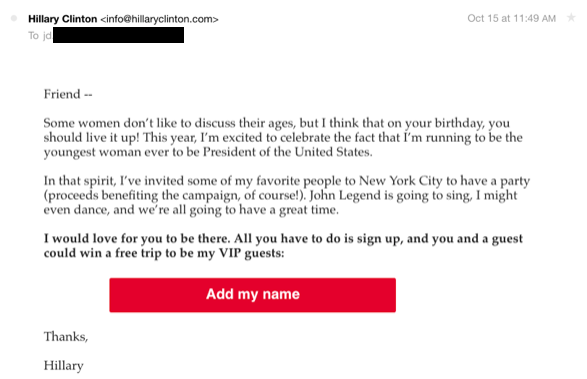 The email is here, in its entirety. If any of it seems insincere, at least it didn't include any lies like the opening line from my first ever Jeb email:

"Relies on grassroots supporters"? Nice try, Jeb.
—
J.D. Durkin is the Senior Editor of Mediaite. You can follow him on Twitter @MediaiteJD.
Have a tip we should know? tips@mediaite.com