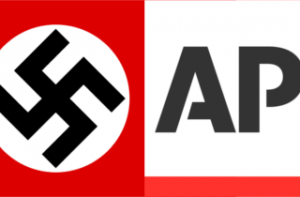 The Associated Press maintained its operations in Nazi-controlled Germany by cooperating with the Hitler regime and disseminating its propaganda, according to a new report.
A new article, published by historian Harriet Scharnberg and reported by The Guardian, argues that the AP was able to stay in business, after other international news outlets were forced to shutter, by collaborating with the Reich.
The Guardian writes:
The New York-based agency ceded control of its output by signing up to the so-called Schriftleitergesetz (editor's law), promising not to publish any material "calculated to weaken the strength of the Reich abroad or at home".

This law required AP to hire reporters who also worked for the Nazi party's propaganda division. One of the four photographers employed by the Associated Press in the 1930s, Franz Roth, was a member of the SS paramilitary unit's propaganda division, whose photographs were personally chosen by Hitler. AP has removed Roth's pictures from its website since Scharnberg published her findings, though thumbnails remain viewable due to "software issues".
It's not a matter of mere historical interest, the paper notes, because since "AP became the first western news agency to open a bureau in North Korea, questions have repeatedly been raised about the neutrality of its Pyongyang bureau's output."
The AP responded to The Guardian with the following statement:
As we continue to research this matter, AP rejects any notion that it deliberately 'collaborated' with the Nazi regime. An accurate characterisation is that the AP and other foreign news organisations were subjected to intense pressure from the Nazi regime from the year of Hitler's coming to power in 1932 until the AP's expulsion from Germany in 1941. AP management resisted the pressure while working to gather accurate, vital and objective news in a dark and dangerous time.
UPDATE—4:45p.m. ET: The AP has posted its complete response to the article on their blog. The statement, authored by AP Vice President and Director of Media Relations Paul Colford, reads in part:
The AP did not engage in direct publication [of images supplied by the Nazi government] and until Ms. Scharnberg's research had no knowledge of any accusation that material may have been directly produced and selected by Nazi propaganda ministries. If it had been, we believe that the captions and photo credits would have made that clear.

It is important to note that after Dec. 11, 1941, when Germany declared war on the United States and expelled all foreign news organizations, AP lost control over its subsidiary and therefore the use of its photos. It was left to the former German staff, who stayed on at great risk, to protect the physical archive from outright seizure by the Nazi regime.
Have a tip we should know? tips@mediaite.com