How Bristol Palin and Twitter Fell for Hoax About Caitlyn Jenner and Amputee Iraq Vet
On Monday, ESPN announced it was giving the Arthur Ashe Courage Award to Caitlyn Jenner for publicly revealing her gender transition, instantly making the former decathlete the highest-profile transgender individual in America. The award is named for a tennis star who succumbed to AIDS in 1993 after starting a foundation dedicated to AIDS education.
But not long after the announcement, a story began to make the rounds that Jenner had beaten out Noah Galloway, an Iraqi war double-amputee who competed Dancing with the Stars this year, prompting outrage on Twitter. (A similar narrative arose around Mount St. Joseph basketball player Lauren Hill, who played until she passed away from cancer this year.)
According to Snopes, this myth seems to have started with Boston Herald columnist Gerry Callahan, who tweeted the following:
Caitlyn Jenner wins Arthur Ashe Courage Award.
And the runner-up is …. pic.twitter.com/DKUdnPT8Gx

— Gerry Callahan (@GerryCallahan) June 1, 2015
Though Callahan appears to have just been snarking, the tweet has been retweeted almost 10,000 times, and once detached from the source began to spread as an actual story. Snopes found its memic representation: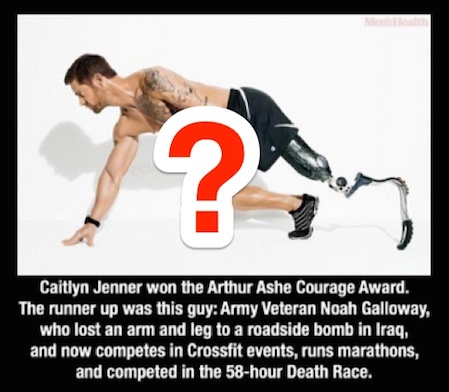 By the time the story made it to Bristol Palin's blog yesterday, it was as a florid example of liberal culture run amok:
Isn't that crazy!!! I hate how everything in this liberal world is, "Oh equality for all, but not if you don't agree with us!"

I hate, for example, how Tim Tebow is SOOO mocked for being a Christian!!!! If anyone says they don't believe in gay marriage, they're cursed. Here's the thing. Caitliyn Jenner looks great! I don't care what people do… honestly I have gay friends, but it drives me crazy that people like Noah don't get recognized for sacrificing their LIFE for our country, while being gay/transgender makes you a hero.
Per ESPN, this is all nonsense. On Wednesday the sports behemoth released a statement affirming there is "no such thing as a runner up" to the Arthur Ashe Award:
The Arthur Ashe Courage Award is meant to honor individuals whose contributions transcend sports through courageous action. Sometimes that courage is demonstrated over the course of a lifetime and sometimes it is demonstrated in a single act that shines a light on an important contemporary issue. At all times, there are many worthy candidates. This year, we are proud to honor Caitlyn Jenner embracing her identity and doing so in a public way to help move forward a constructive dialogue about progress and acceptance.
To some, this by definition means Galloway was runner-up, though that seems a tad pedantic.
[Image via screengrab]
——
>> Follow Evan McMurry (@evanmcmurry) on Twitter
Have a tip we should know? tips@mediaite.com