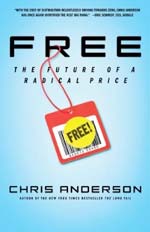 There's been lot's of nicely ironic, hullabaloo these last few days regarding Chris Anderson being cited for plagiarism in his new book Free: The Future of a Radical Price, which among other things is about why companies should give certain things away for free. Short summary: Virginia Quarterly Review blogger Waldo Jaquith stumbled upon some passages in Free that struck him as off, a quick internet search resulted in the discovery that said passages had been pulled — transcription errors and all! — directly from Wikipedia without being sourced.
Anderson, and his publisher, explained the misstep by noting that the book had been published quickly (of course not as quickly, as say, a blog post or newspaper article) and that in the process the decision had been made to eliminate the footnotes.
The trickiness of using Wikipedia as a source and the ability to properly footnote it was also given as one of the reasons the attributions had been left out. Anderson said he publishers were "uncomfortable with the changing nature of Wikipedia," and wanted him to note the date he had viewed the page, which Anderson felt was "clumsy and archaic." In actuality this entire episode feels "clumsy and archaic", much like the medium of the printed word! We're as hesitant to give up our paperbacks as the next straphanger but this is the sort of problem that not only would have been immediately corrected in the online (e-book?) world, but most likely would have been avoided in the first place. The paragraph merely would have been linked.
For those of us used to doing most of our writing on the Internets this is second nature. And really, does anyone actually think Chris Anderson was trying to pass of a reference to the 'Crescent Moon' as his own? Probably not. Does one imagine the link may have been included when Anderson originally wrote it on his computer, sure. Does this excuse not attributing a source in published material? Of course not! But it most certainly highlights the disconnect between the ease and expectation of linking and sourcing online content to which we've all become so adjusted and the difficulties of translating that to the printed word. That said, whether the inability to link can also explain the cloudy case of Maureen Dowd and her plagiarizing, phone-talking 'friend', is still unclear.
Related: How VQR's Jaquith Found Anderson's Plagiarism (Hint: It's In Parentheses) (FBNY)
Have a tip we should know? tips@mediaite.com