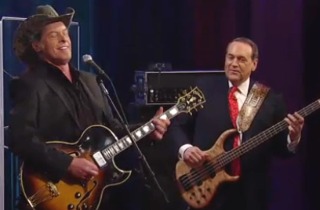 Mike Huckabee continues to defend his issues with Beyoncé, and in a new interview today, he insists there's no hypocrisy in scolding Beyoncé's provocative songs but saying nothing about Ted Nugent's. Why is this particularly relevant? Because Nugent sang "Cat Scratch Fever" on Huckabee's Fox show a few years ago and it has lyrics you could argue are just as corruptive to young children as Beyoncé's.
Mediaite's Andrew Kirell took notice of this bit of hypocrisy on Huckabee's part last week, and Jon Stewart confronted Huckabee about it on Monday. Huckabee argued that Nugent's song isn't meant for younger people, like Beyoncé's music. Stewart suggested it's because Huckabee likes Nugent's politics and not Beyoncé's, but pssh, that couldn't possibly be the case…
In an interview with The Christian Post today, Huckabee continues to address the accusations of hypocrisy and insists there's vital context that people are missing:
I wasn't sitting down with my teen-aged daughter, my daughter, who is, of course, an adult now and has her own children.

It has to do with the propriety of the context. Again, I'm not a prude. I'm aware that there certain expressions that in certain contexts would not be considered inappropriate. Now frankly, I think some of the gyrations of a stripper pole, I'm not sure how wholesome that is at any time.
As opposed to Nugent singing about making a "pussy purr." Obviously more in the vicinity of wholesome. (Also, Nugent has another song titled "Wang Dang Sweet Poontang." So.)
But then there's this other thing Huckabee says: "First of all, Ted changed the lyrics pretty dramatically when he sang it on the stage that time." He's referring, of course, to Nugent singing "Cat Scratch Fever" on Huckabee.
There's just one itsy-bitsy, ever-so-minor issue: he didn't change the lyrics. RightWingWatch flagged that comment from Huckabee and showed how the song is basically unchanged (though he sings "cha-cha train" instead of "choo-choo train" if you want to nitpick). And yes, Nugent's line about making the "pussy purr" is there.
You can watch Nugent's Huckabee performance below (and feel free to compare it to the song's original lyrics here), via Fox News:
[image via screengrab]
— —
Follow Josh Feldman on Twitter: @feldmaniac
Have a tip we should know? tips@mediaite.com
Josh Feldman - Senior Editor