Huh? After Walking Back Initial Statement, Orrin Hatch Now Says Rob Porter Shouldn't Resign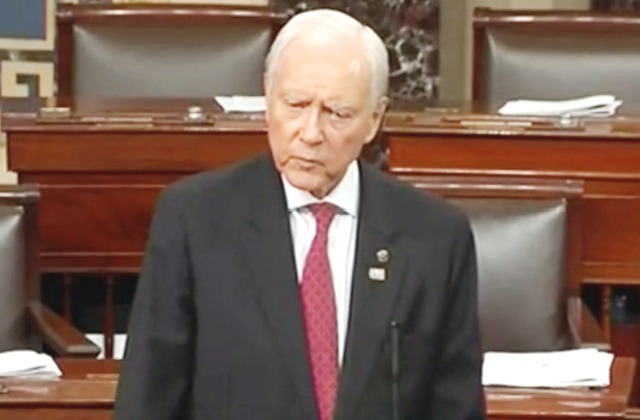 Rob Porter, the White House aide resigning after being accused of domestic abuse by two ex-wives, is apparently being advised by one U.S. senator to reconsider.
Senator Orrin Hatch, who Porter used to work for, defended him yesterday in a statement denouncing the "vile attack" on his character… before walking it back and saying he's "heartbroken" by these allegations.
But per an NBC News reporter, Hatch is saying that he shouldn't resign:
HATCH says he spoke to Rob Porter at the WH today: "I told him he shouldn't (resign)…he should fight his way through this, and he's got a lot to give to the administration and to all of us."

Porter's Response? "He didn't give me a final decision, but I hope that he will stay"

— Frank Thorp V (@frankthorp) February 7, 2018
HATCH on Rob Porter: "I know Rob, he's a very fine fellow and very good man, and it's been a tremendous embarrassment to him. But he's going to hang in there I think."

— Frank Thorp V (@frankthorp) February 7, 2018
UPDATE –– 6:20 pm ET: He is, um, not backing down:
Just spoke to @senorrinhatch again, he reiterated he "would prefer (Rob Porter) not to resign. Just work his way through and do what's right."

"I encouraged him to keep a stiff upper lip and work on his problems," Hatch said.

— Frank Thorp V (@frankthorp) February 7, 2018
Q: If allegations about Porter are true would you employ him?

HATCH: "That's a Q I'm not going to answer, because he worked for me, he did a tremendous job. If I could find more people like him I would hire them, I think that's how good he is. And he's basically a good person"

— Frank Thorp V (@frankthorp) February 7, 2018
[image via screengrab]
— —
Follow Josh Feldman on Twitter: @feldmaniac
Have a tip we should know? tips@mediaite.com
Josh Feldman - Senior Editor