Obama Text from FBI Agent Hyped by Fox News Reportedly Was Not About Clinton Probe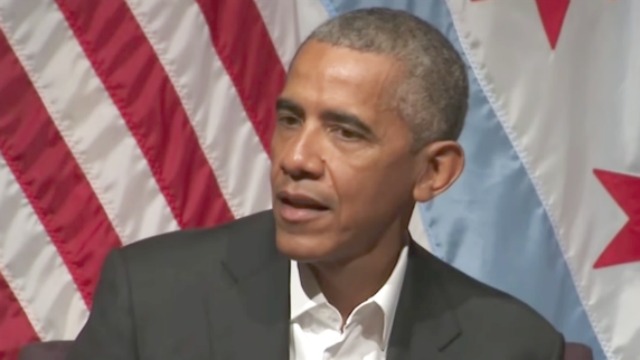 So if you've been plugged into the news today, you may have seen the news of more Peter Strzok–Lisa Page texts being released. The text getting the most attention is the one reading, "potus wants to know everything we're doing," referring to then-President Barack Obama.
Fox News' report this morning noted, "According to a newly released Senate report, this text raises questions about Obama's personal involvement in the Clinton email investigation."
This is the text exchange in question:

The Senate Homeland Security and Governmental Affairs Committee and Chairman Ron Johnson released all the texts along with the committee's report this morning, which had this to say about that particular exchange:
On September 2, 2016, Page wrote about preparing talking points for [FBI] Director [James] Comey because "potus wants to know everything we're doing." This text raises additional questions about the type and extent of President Obama's personal involvement in the [Hillary] Clinton email scandal and the FBI investigation of it.
There is a footnote to this part that says "The Justice Department notified the Committee that it had redacted other text messages that were personal in nature or relating to other investigations. See Jan. 19th Boyd letter, supra note 5. Presumably, because this message was not redacted, the Department believes it may relate to the FBI's investigation of classified information on Secretary Clinton's private server."
Naturally, there was a lot of coverage of this particular text today on Fox. Congressman Louis Gohmert concluded on Fox & Friends "it means the President wants to know what they're doing to try to stop Trump." Brian Kilmeade said the messages raise questions about what Obama knew about the Clinton investigation.
Earlier tonight on The Five, as they led with this report, Dana Perino cautioned, "It could look terrible or it could be he has seeking a briefing about the Russian involvement and meddling in the election. From these text messages, we don't know that."
That came shortly after Kimberly Guilfoyle reiterated the same point about how it raises questions about what Obama knew in the Clinton investigation and when:
.@kimguilfoyle: "Didn't Mr. Obama once insist he never got involved in @FBI investigations?" #TheFive https://t.co/OULWjPrKah pic.twitter.com/pqJkcClTiP

— Fox News (@FoxNews) February 7, 2018
Well, per The Wall Street Journal:
Text messages from 2016 show preparation to brief Barack Obama about Russia's interference in that year's election, according to associates of the FBI employees involved in the exchange, not, as a Republican senator suggested, meddling by the then-president in the federal Hillary Clinton email investigation…

[A]ssociates of Mr. Strzok and Ms. Page said that exchange referred to the president's wanting information on Russia election meddling, which the FBI was heavily involved in over that period. That exchange occurred just days before Mr. Obama met Russian President Vladimir Putin at a summit in China. Mr. Obama said in December 2016 that he had addressed the issue of tampering with the election process with Mr. Putin at that September meeting.
Senator Johnson recently came under fire after hyping that "secret society" text after it came out and pretty much everyone recognized it as sarcasm.
[image via screengrab]
— —
Follow Josh Feldman on Twitter: @feldmaniac
Have a tip we should know? [email protected]
Josh Feldman - Senior Editor