Rob Porter's Ex-Wives Claim a Third Woman Contacted Them About 'Repeated Abuse' from Him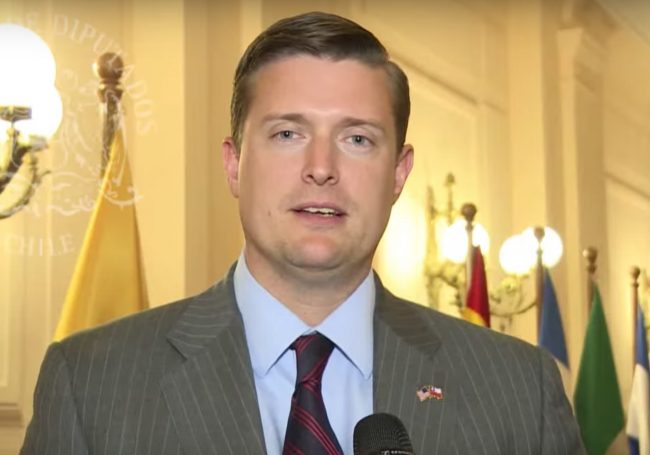 The two ex-wives of Rob Porter, the White House aide resigning today, spoke out to CNN detailing the serious alleged abuse they suffered.
The news was first broken by the Daily Mail yesterday, and despite a few statements defending Porter from the White House, he's resigning.
Colbie Holderness said, "The thing he would do most frequently is he would throw me down on a bed and he would just put his body weight on me and he'd be yelling at me but as he was yelling he'd me grinding an elbow or knee into my body to emphasize his anger."
And Jennifer Willoughby explained, "We were in a fight and I disengaged from the fight after screaming at each other. I took a shower and Rob followed me fairly shortly after and grabbed me from the shower by my shoulders up close to my neck and pulled me out to continue to yell at me. He immediately saw the look of shock and terror on my face and released me and apologized and attempted to make things right."
Porter vociferously denied the allegations in a statement earlier today.
But per Holderness and Willoughby, there's a third woman, who reportedly works in government:
Both Holderness and Willoughby were contacted by a woman claiming to be Porter's girlfriend in 2016. In Facebook and text messages reviewed by CNN, the woman, described "repeated abuse" from Porter and sought help from the ex-wives on how to leave him.

"I work in politics, and despite Rob's repeated abuse, some of which I think many know about, he continues to rise and I'm afraid to go against him," the woman wrote to Holderness in December 2016. "I'm sorry to bother you. I wanted to reach out and hear your story if you are willing to share — as well as how you broke out of it with him and mostly, how you recovered."

"Rob was abusive, degrading, a liar and a cheater and during the course of my relationship with him, I found out that he was to others, too," the woman wrote to Willoughby in February 2016. "I am just searching for someone who might be able to relate to the hell I have gone through."
After this report came out, it was reported that Senator Orrin Hatch is saying Porter shouldn't resign. And apparently there's some internal White House furor about how much John Kelly was defending him.
[image via screengrab]
— —
Follow Josh Feldman on Twitter: @feldmaniac
Have a tip we should know? tips@mediaite.com
Josh Feldman - Senior Editor