Hundreds Of Special Ops Veterans Submit Letter To Congress Requesting Benghazi Investigation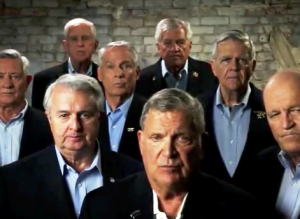 Approximately 700 Special Operations veterans are submitting a letter to Congress this week, asking that it support House Resolution 36 (H. Res. 36), introduced by Rep. Frank Wolf (R-VA), which calls for "establishing a select committee to investigate and report on the attack on the United States consulate in Benghazi, Libya."
The group, entitled Special Operations Speaks, describes itself as a "some 700 retired Military Special Operations professionals who spent the majority of their careers preparing for and executing myriad operations to rescue or recover detained or threatened fellow Americans."
The letter notes:
It is essential that a full accounting of the events of September 11, 2012, be provided and that the American public be fully informed regarding this egregious terrorist attack on US diplomatic personnel and facilities. We owe that truth to the American people and the families of the fallen.

It appears that many of the facts and details surrounding the terrorist attack which resulted in four American deaths and an undetermined number of American casualties have not yet been ascertained by previous hearings and inquiries.
It lays out sixteen questions that the select committee should investigate and address, including, for instance, "Why are so many agencies now requiring their personnel that were involved in or have access to information regarding the events that took place in Benghazi sign Non-Disclosure Agreements?" and "Why have the survivors of the attack not been questioned?"
Rep. Wolf introduced the bill on January 18th. It has steadily gained supporters, with 62 current co-sponsors (click here for a list).
[h/t to Fox News]
Follow AJ Delgado on Twitter >>> @missADelgado
Have a tip we should know? tips@mediaite.com