'I Heard You!': Conway Snaps at CNN Anchor During Segment on Trump's Predatory Behavior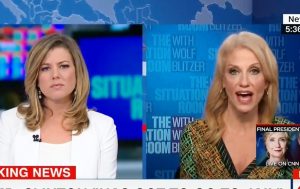 Today, Donald Trump's campaign manager Kellyanne Conway had a very, very intense interview with CNN's Brianna Keilar. Repeatedly, Conway took aim at CNN and insisted to Keilar that the network doesn't want to cover Hillary Clinton. Keilar stood up for her employer, calmly letting Conway know that CNN has covered Clinton throughout the campaign season, so the pollster insisted that the Trump coverage was simply unfair.
After a commercial break, Keilar asked specifically about reports that Trump used to wander into the dressing rooms of Miss Teen USA competitors while they were half-naked. Conway continued trying to change the topic to Clinton, so when Keilar moved it back to Trump, she snapped, "I heard you!"
It only got worse from there. At one point, Conway mentioned that Clinton couldn't be a champion for women because so many women don't have insurance.
KellyAnne Conway trying to defend Donald Trump on women by talking about "millions of women" without health insurance.. That's a first.

— Sarah Ferris (@sarahnferris) October 12, 2016
That caught the attention of a few observers. The whole display, in fact, generated more and more interest as she became increasingly aggressive in her attacks on CNN.
Kellyanne is attacking Briana Keilor in a combative & aggressive way that surely isn't making the campaign look good.

— Touré (@Toure) October 12, 2016
On @CNNSitRoom with @brikeilarcnn, Kellyanne Conway repeatedly won't address Trump's remarks re: walking in on undressed pageant contestants

— Rebecca Berg (@rebeccagberg) October 12, 2016
Conway hit CNN for "cherry-picking" pieces of Trump speeches to analyze. Keilar responded that they only go over things that are new and haven't appeared in other speeches before.
"We put Donald Trump and his stump speech on television all the time," she said. "What's new in the speech was what he said that we are covering. That's how you cover a Hillary Clinton speech."
"That's not true," said Conway.
"It is true," came the response.
Repeatedly, Keilar told Conway that CNN has been covering all of the things she was claiming they haven't been.
It went on that way and both of the videos above are worth a watch. Note that the anti-CNN sentiment is common among Trump supporters.
[image: screengrab]
Have a tip we should know? tips@mediaite.com