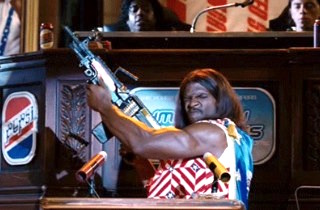 Two of the biggest creative figures behind the film Idiocracy are working to give the cult classic a new life in the form of campaign ads against Donald Trump.
The film is about a man who takes part in a cryogenics experiment, only to wake up and find that America has become a dysfunctional society whose entire population is morbidly stupid. Director Mike Judge and screenwriter Etan Cohen say that they've teamed up again to write anti-Trump ads, and they are working on the logistics to make the film the central theme of their TV spots.
"We just thought it would take much, much longer to get to this point," Cohen said, according to Buzzfeed. "Obviously, when writing the movie, we knew that that was true about TV and movies and pop culture. But it was a crazy joke to think that it could be extrapolated to politics. It seems to be happening really rapidly."
Cohen's thoughts on his old project got renewed attention when he tweeted in February that he "never expected [the film] to become a documentary." Cohen and Judge have acknowledged fans who've expressed similar feelings in the past, and they said that satirizing Trump is quite challenging because his outrage factor is already off the scale.
The duo say they plan for their ads to revolve around Terry Crews, whom they are trying to recruit for a reprisal of his character, President Dwayne Elizondo Mountain Dew Herbert Camacho. The other holdup is in making sure they can secure the film rights from Fox so that the reboot can be legally approved.
"The most dangerous contrast to Trump is that Camacho actually realizes he needs advice from other people, and knows that he's not the smartest guy in the room," Cohen said. He also said that he'd vote Camacho over Trump any day because the former is "not a racist."
[Image via screengrab]
— —
>> Follow Ken Meyer (@KenMeyer91) on Twitter
Have a tip we should know? tips@mediaite.com