Trump: Muhammad Ali's Statement Rebuking Anti-Islam Rhetoric 'Wasn't About Me'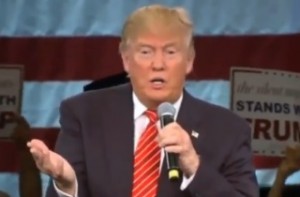 With the passing of American icon Muhammad Ali this weekend, some people are reflecting on how the outspoken Muslim athlete commented months ago on anti-Muslim comments on the campaign trail in the wake of San Bernardino––a statement that was a pretty clear shot at Donald Trump.
Trump mourned Ali's death yeaterday, but lots of people on Twitter pointed out not only did Ali issue that statement, but Trump himself expressed a cluelessness months ago about which sports heroes are Muslims.
Days after San Bernardino, Trump proposed his now-infamous Muslim ban. Two days later, Ali released a statement saying not only that horrible killings like Paris and San Bernardino go against the teachings of Islam, but that political leaders have responsibilities in how they talk about Islam:
Speaking as someone who has never been accused of political correctness, I believe that our political leaders should use their position to bring understanding about the religion of Islam and clarify that these misguided murderers have perverted people's views on what Islam really is.
Well, Trump spoke with The New York Times about Ali's death, where he spoke very glowingly about the heavyweight champion, but Trump dismissed the idea that his statement on anti-Muslim rhetoric was about him:
"He never mentioned the name or anything like that," he said, adding that if it were about him, Ali "would have mentioned the name."

"No, that wasn't about me. That was about other things," Mr. Trump said.
The only problem with Trump's denial there is that Ali's statement was literally titled "Presidential Candidates Proposing to Ban Muslim Immigration to the United States."
And unless anyone else did that without telling us…
[image via screengrab]
— —
Follow Josh Feldman on Twitter: @feldmaniac
Have a tip we should know? tips@mediaite.com
Josh Feldman - Senior Editor