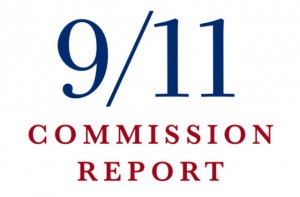 The infamous secret "28 pages" of the 9/11 Commission Report have finally been declassified and released for public consumption (though not without some noticeable redactions).
The big smoking gun expected from these pages was proof of a potential link between the 9/11 hijackers and the government of Saudi Arabia.
And right off the bat, the 28 pages begins with the sentence, "While in the United States, some of the September 11 hijackers were in contact with, and received support or assistance from, individuals who may be connected to the Saudi Government."
This is based on documents from both the FBI and the CIA, and the report goes through lists of individuals in the Saudi government (or with ties to the government) with suspected terror ties.
There is a lot of language within the report about allegations and unclear evidence of such, especially when it comes to "the serious nature of allegations" in a memo talking about "alleged financial connections between the September 11 hijackers, Saudi Government officials, and members of the Saudi Royal Family."
There are links mentioned in the report to former ambassador/Saudi Arabian Prince Bandar and to Saudi officials who were in the United States.
But the committee concluded they were unable to determine "the reliability or sufficiency of the information regarding those issues that we found contained in FBI and CIA documents." (Though there are complaints from both agencies about "a lack of Saudi cooperation in terrorism investigations," and one intel officer said 9/11 could have been prevented with "greater Saudi cooperation.")
And then, of course, there are the redactions. Here's some highlights: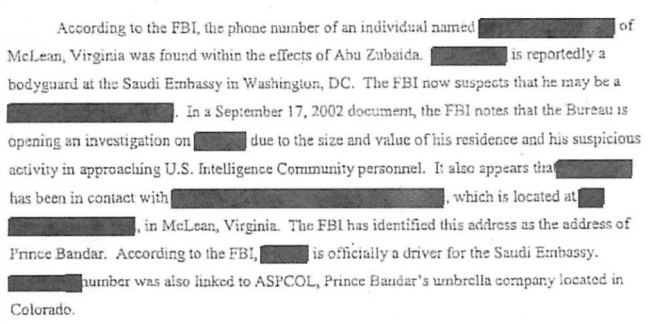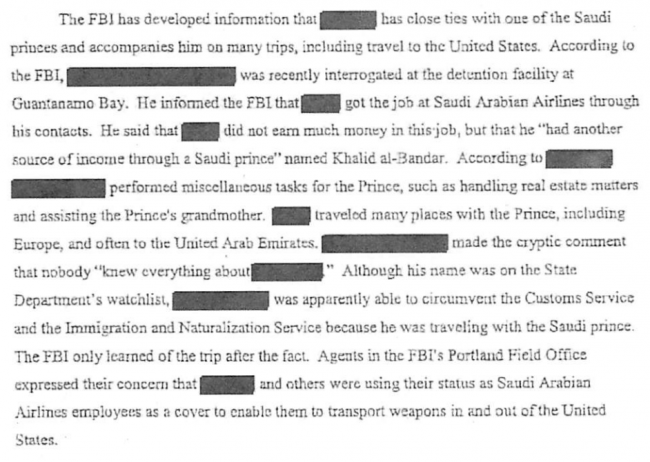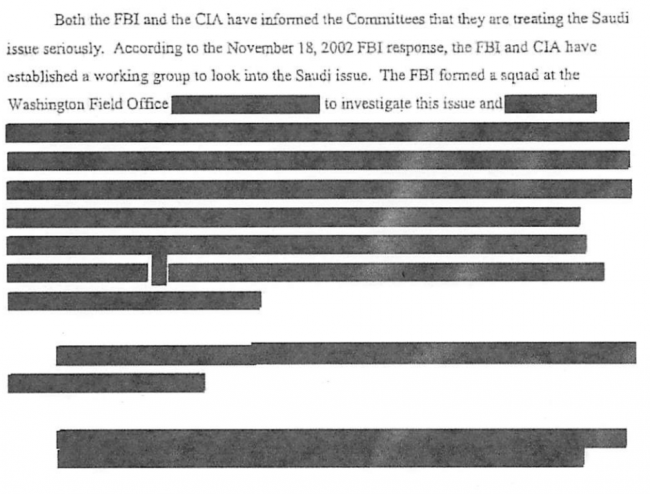 The White House said, before the pages were released, that it definitively shows no Saudi complicity in 9/11.
You can read the full 28 pages here to see for yourself.
[image via screengrab]
— —
Follow Josh Feldman on Twitter: @feldmaniac
Have a tip we should know? tips@mediaite.com
Josh Feldman - Senior Editor