Internal Emails Threaten To Bring Down YouTube In Their Billion Dollar Viacom Lawsuit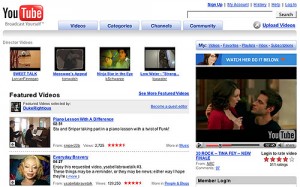 There's no question that YouTube has changed the way many people think about video: a single click reveals millions of clips available for instant recall, their owners be damned. And although any attempt to harness the copyright mayhem is usually futile, Viacom — the super-sized media conglomerate — is giving it their best shot in the form of a $1 billion lawsuit against YouTube and its parent company Google. Now, CNET is reporting that the legal tide may be shifting in favor of Viacom thanks to new damning evidence against employees of the video service.
Allegedly, internal emails "indicate that YouTube managers knew and discussed the existence of unauthorized content on the site with employees but chose not to remove the material," according to a few anonymous sources close to the investigation. Though the evidence may seem scant for a billion dollar case, apparently the emails may constitute the "smoking gun" Viacom was searching for against YouTube:
If managers possessed "actual knowledge" of copyright infringement on the site and did not quickly remove it, the company may not be entitled to protection under the Digital Millennium Copyright Act's safe-harbor provision according to legal experts.
YouTube, meanwhile, is standing behind the dubious claim that they did not know about the copyrighted material on the site — a stance hard to maintain if emails reveal acknowledgement by your employees. However, Viacom employees may face similar scrutiny when it comes to systematically leaving some copyrighted videos on the site, ""for marketing promotional or other business reasons."
It's a time of great turmoil for copyrighted material on the web, as the war wages on, often between users and media companies such as newspapers, television channels and even record labels. Predictably, businesses are pushing for stricter adherence to the laws that govern tangible media, and how it will all play out online remains to be seen. In all, this case seems to be a lot of reciprocal biting the hand that feeds, in such an odd corporate loop that the legalese and tech talk can seem hard to parse or fully comprehend. CNET, though, does a bang up job of simplifying the story into palatable bites, while maintaining the gravity of the situation and breaking news. The full take is available here.
Have a tip we should know? tips@mediaite.com