Internet Melts Down Over Impending Internet Meltdown: Net Neutrality Repeal 'Is Simply Not Okay'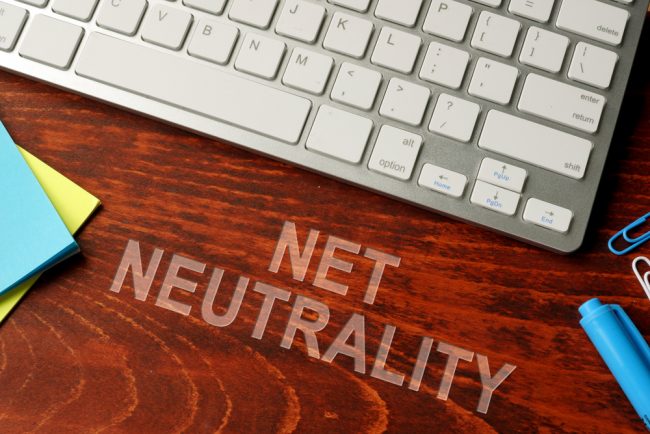 In a 3-2 split, the FCC voted on Thursday to repeal Net Neutrality — a series of regulations adopted during President Barack Obama's administration which prohibited Internet service providers from favoring certain websites, and possibly charging more to access other websites.
FCC Chairman Ajit Pai defended the move in a speech prior to the vote.
"We are helping consumers and promoting competition," Pai said, according to The New York Times. "Broadband providers will have more incentive to build networks, especially to underserved areas."
But much of Twitter was in panic mode after the vote was announced. Here's a sampling of the reaction from politicians, pundits, and others.
#NetNeutrality is the latest decision by the Trump administration in an effort to systematically repeal and destroy EVERYTHING we achieved over the last eight years. I'm concerned about any policy that could harm consumer access to the internet.

— Sen Dianne Feinstein (@SenFeinstein) December 14, 2017
What we have come to know by this move from the FCC is that @AjitPaiFCC is a rogue player. He has acted against the will of a major majority of the American people, left, right and center. He has financial conflicts of interest. He has flouted due process. He's lost credibility. https://t.co/LgpBLBr9Yy

— Mark Ruffalo (@MarkRuffalo) December 14, 2017
I want to see statutory protection, the best protection we could possibly get for #netneutrality If I could, I'd like to see constitutional protection for #NetNeutrality I want to make sure that nobody messes with your internet and I feel very strongly about that.

— Rep. Alan Grayson (@AlanGrayson) December 14, 2017
Elections have consequences. Organize for change because @realDonaldtrump's F.C.C. Just Repealed Net Neutrality Rules

— Rep. Keith Ellison (@keithellison) December 14, 2017
Today's rollback of #NetNeutrality is a brazen betrayal of American consumers, innovators, students, and entrepreneurs – all of whom will suffer tremendously without a free and open internet.

— Richard Blumenthal (@SenBlumenthal) December 14, 2017
Trump's FCC just voted to end #NetNeutrality consumer protections that benefit everyday Americans. Nothing they say about looking out for you should ever be believed

— Hakeem Jeffries (@RepJeffries) December 14, 2017
I was disappointed in the @FCC vote to repeal #NetNeutrality today. People have benefited from a free and open internet and now the FCC has reneged those benefits from all Americans. https://t.co/RwCs7uPNpw

— Rep.Vicente Gonzalez (@RepGonzalez) December 14, 2017
Trump's hand-picked FCC chairman and the Republican majority on the FCC just voted to overturn #netneutrality, siding with multinational corporations and big business over the interests of the American people. Shame on them. https://t.co/VxApGi8IOJ

— Congressman Tim Ryan (@RepTimRyan) December 14, 2017
[image via Shutterstock.com]
——
Follow Joe DePaolo (@joe_depaolo) on Twitter
Have a tip we should know? tips@mediaite.com
Joe DePaolo - Senior Editor