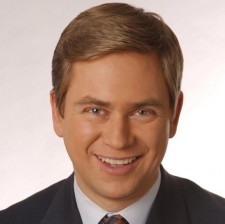 Try going to Hulu.com with an iPhone. Instead of the video you're after, a big black box tells you that "Hulu requires Flash Player."
Now try Viacom's nickJr site.  When I go there with my iPhone I get a big empty white box at the top where the Flash video content would otherwise appear.
Whether Apple likes it or not, Flash is the standard for online video and animation. The web just isn't the web without it.  Steve Jobs reminded us all of that when he first demonstrated the iPad.  On stage before an audience of thousands he browsed to NYTimes.com and ended up with an empty Flash video box in the middle of his screen.
Which brings me to the first "hands-on" reviews of the iPad, published late last night and appearing in this morning's newspapers. The iPad, like the iPhone, doesn't do Flash.  And although the lack of Flash is noted by most of the reviewers, it's underplayed by writers who know better.
I'm increasingly uncomfortable with the relationship Apple has with tech reviewers.  For each product launch, Apple taps a few reviewers on the shoulder with an offer to send a review unit a few days before the rest of the world has access.  Huge numbers of page views and retweets are assured for the writer who is among the chosen few.  But who can be completely objective under these circumstances?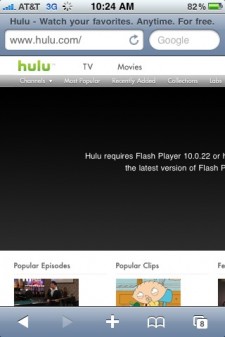 I'm not suggesting there's any deal in place to mandate positive reviews.  As far as I know, the main condition placed on the reviewers is that they hold their review until an embargo date chosen by Apple.  But when the lucky group of reviewers is as small as it is, which of them wants to write a negative review that might prompt Apple to choose someone else next time? This seemed all the more obvious when I tried to find some objective criticism about the Flash issue in the many iPad reviews I read.
In the Wall Street Journal, Walt Mossberg glosses over the issue, writing that once his iPad was delivered he used basically stopped using his laptops except for "viewing Web videos in Adobe's Flash technology, which the iPad doesn't support, despite its wide popularity online." Ed Baig of USA Today also talks around the subject by discussing Apple's support of HTML5 and then offers potential iPad customers the inexplicable assurance that the device can play videos from the White House website. Whew.
Bob "Dr. Mac" LeVitus, who reviews Apple for the Houston Chronicle doesn't even mention the Flash issue in his review, perhaps a clue as to how he acquired his honorary title. Over at BoingBoing, the issue is circumvented as well, by wrapping the iPad review into a glowing review of a particularly well-executed e-book.  Despite the distraction, many of the comments under the Boing Boing post had to do with the lack of Flash.
Given that PC Magazine has a very condensed review, it probably paid the most attention to the Flash problem writing, "omissions including support for multitasking, a built-in camera for video chats, and Flash support in Safari leave room for improvement." And finally, David Pogue of the New York Times addresses Apple's hatred of Flash in the most straight forward way: "Apple has this thing against Flash, the Web's most popular video format; says it's buggy, it's not secure and depletes the battery. Well, fine, but meanwhile, thousands of Web sites show up with empty white squares on the iPad — places where videos or animations are supposed to play." Despite the emergence of HTML5, Pogue is also the only one to point out that "It will probably be years before the rest of the Web's videos become iPad-viewable."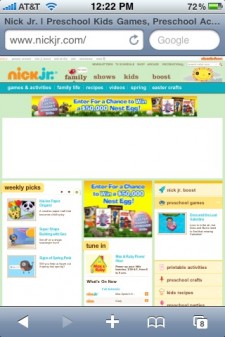 I could go into a similar analysis of the minimal criticism for the decision not to outfit the iPad with a camera.  But you get the idea. Apple's pre-release reviews put undue pressure on those selected to write them.  A review of anything — movie, book, computer, whatever — is most useful when you believe the reviewer has only the reader to answer to.
To draw a comparison, suppose Owen Gleiberman and Joe Morgenstern decided to be nasty in their reviews of every movie ever released.  The studios couldn't cut them off.  They could make it harder for their tough critics to get into advance screenings, but it would be almost impossible to shut them out.  The Apple situation seems much clearer: a handful of writers get to play while the others wait.
For the iPad launch, Apple expanded the circle of pre-release reviewers, which raised my level of discomfort.  If it was only the New York Times, Wall Street Journal and USA Today getting access, you could make the argument that they were chosen solely because of their audited circulation.  But now we've got Omar Wasow of The Root and Xeni Jardin of BoingBoing in the mix.  How excited are they about getting the nod over Gizmodo or TechCrunch?
Viewers of NY1 and readers of PatsPapers.com know that I am a huge fan of the work of Mossberg and Pogue, in particular.  We all have conflicts and they are diligent with their disclosures.  These writers are smart enough to put the reader first and I'm confident that if the iPad was a disaster they'd just say so.  But they shouldn't find themselves in this position.
I understand that Apple's marketing buzz is built around secrecy and that the company can't be expected to send out a hundred iPads for review.  But Apple could be more transparent about who's being chosen and why.  And publications (the big newspapers, in particular) could refuse to participate without a guarantee that they'll remain part of the "chosen few" for the next product.
Or, Apple could do something like this: Come up with a list of 50 respected writers and put it to an online vote.  The top ten reviewers would get the nod for the early review.  We could make this conflict disappear with a bit of online democracy. Of course, we'd just have to make sure the poll isn't designed in Flash.
Mediaite contributor Pat Kiernan wrote this column on a Windows netbook he just bought this week. It's compatible with online video, has a camera and cost $100 less than the iPad.
Have a tip we should know? tips@mediaite.com