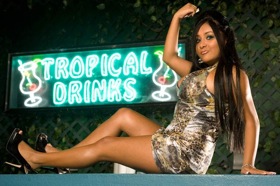 The nominees for the 2010 Time 100 are here, just a fourth of the way into the year, chronicling the most influential people in the world. If you're a glass-half-full kind of person, it tells a tale of unprecedented social mobility in the current pop culture landscape. For the other 90% of us: Snooki?!
Much like most years, half the names are athletes/winter Olympians, while the other half is solidly divided between international human rights activists, American political folk, and generic celebrities. It is really only the celebrity list that is shocking because it reads as a sincere attempt to keep up with the times gone horribly awry. Snooki, Bristol Palin (the protagonist of 2008 reality show The 2008 Presidential Election), Lady Gaga, and Conan O'Brien are hits. It's a sad cultural statement, but claiming that a high percentage of Americans did not spend the past two months thinking almost exclusively about the tiny, leathery MTV sensation would be lying. Jerry Seinfeld, Ben Stiller, and Kristen Wiig, though? Probably not making the final cut.
Where Time excels at finding the true puppetmasters is in their bread and butter: industries of power. They covered most of their bases in American politics: The two most powerful men in America– Barack Obama and Glenn Beck— make the cut, thankfully, as well as the most powerful women–Nancy Pelosi and Hillary Clinton– with a cabal of predictable political names behind them: Ron Paul, Rahm Emanuel, Andrew Breitbart, Rachel Maddow et al. Scott Brown makes an appearance, as well as Olympia Snowe and Tim Geithner. In technology, Steve Jobs and Bill Gates are vying for a spot, and in the "evil dictators" category, Hugo Chavez and Muammar Gaddafi are nominated.
Then there's the "we completely disavow the American cultural hegemony" category: international megastars who mean little to most Time subscribers. There's Bollywood megastar Shah Rukh Khan, boxing champion of questionably natural skill Manny Pacquiao, and soccer players Kaká, Thierry Henry and Christiano Ronaldo, among others.
Compiling a yearly list of the world's most influential is not an easy task by any means, but chances are minimal effort could have kept some no longer relevant characters (hi Seinfeld!) off the list. In response to having to see those people nominated, here's a short list of the legitimately influential people who were hurt the most by the former's inclusion:
Mike "The Situation" Sorrentino– the only man who could manage to make Snooki look endearing in comparison.
Orlando Zapata Tamayo– the first Cuban political prisoner to die of a hunger strike since 1972 and a major force in the resurgence of the Cuban counterrevolutionary movement, and a perfect shoo-in to promote international sensibilities. Also, probably more important than Ben Stiller.
Alan Mulally– How about the CEO of a motor company whose cars don't kill people, instead of nominee Akio Toyoda? Plus, Ford actually profited last year, and was the only one of the Big Three that didn't take any bailout money.
Johnny Weir– By far the most influential Winter Olympian of the games, Weir helped unmask the truly revolting face of homophobia when he became a human magnet for "family values" sports activists who called him a bad example for children and demanded he undergo gender testing." Even Larry King thinks Weir is "fierce."
Michele Bachmann– Does no one remember the "Super Bowl of Freedom," and does the fact that she's like Sarah Palin with actual conservative street cred not count? Liberals may consider her to be a chicken short of a henhouse, but at least she hasn't quit the job she promised her constituents she could do until the end of her term.
Have a tip we should know? tips@mediaite.com